Luchen's forecasts help Mitzvah Garden weather Mother Nature
Published: Thursday, 07 July 2016 11:06
Written by Jerry LaMartina, contributing writer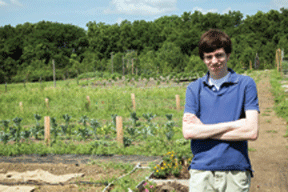 Brad Luchen first got wowed by weather when he was 3 years old, looking out the window at big storms.
Fast-forward 20 years, and the lifelong Overland Park resident is still mesmerized by that chaotic mixture of high and low pressure, numerous types of clouds, temperatures, dew points, humidity, rainfall and everything else that Mother Nature brings to the atmosphere.
Luchen graduated last December from the University of Kansas with a bachelor's degree in atmospheric science (meteorology). In March of this year, he started working as the volunteer meteorologist for Mitzvah Garden KC.
"I work with the forecast page on the garden's website (http://www.mitzvahgardenkc.com/)," he said. "Each week, I update it, either on Friday or Saturday for the upcoming week. I do it then because Sunday is the day most people volunteer in the garden, and I also give a forecast for the following Sunday. I provide information that they might not be able to exactly get from other weather sources, all on one nice clean page." 
Luchen uses a variety of tools to create his forecast, including various online computer-modeling and satellite data, and weather trends, "and I tailor the forecast toward when gardening would be good," he said. Some of the information is compiled on super-computers in Washington, D.C., and elsewhere that "can literally do billions to trillions of calculations per second."
Calculating the right conditions for gardening is easier: temperatures from about 70 degrees to 90 degrees, light wind, relatively sunny and dry, he said. He includes rainfall amounts in his forecasts because Mitzvah Garden KC uses a 6,000-gallon water-capture and storage system for irrigation, and a drip-irrigation system developed in Israel, both of which constitute its Project Matar. 
Luchen had an internship last year with a Shawnee-based company called Weather or Not, and he's looking for a regular job as a meteorologist. 
Mitzvah Garden KC is actually two gardens and an orchard. The larger garden is on land owned by The Temple, Congregation B'nai Jehudah. The original, and smaller garden, is at Village Shalom. All told, Mitzvah Garden encompasses about three-quarters of an acre. The garden is financed by grants from corporations and nonprofit organizations, and private donations. Volunteers provide the labor.
More than 10,000 pounds of organic produce a year for the past three years has been grown in the garden and its orchard, and then donated to local food pantries — including the JFS Food Pantry. The garden's crops include onions, garlic, tomatoes, peppers, sweet potatoes, corn, cucumbers and kale. The orchard produces blackberries, apples, cherries, peaches and pears.
The garden's organizers describe it as "one of the community's best examples of adhering to the principles of tikkun olam and bringing the community together for the purpose of making our world a better place," according to its website. Tikkun olam literally translates to "world repair," and denotes acts of kindness intended to repair the world, according to myjewishlearning.com.
Andrew Kaplan, Ken Sonnenschein and Larry Lehman co-founded the garden and are its co-chairs. Sonnenschein, who's a member of Congregation Beth Shalom, started in 2000 with a 640-square-foot garden comprising 10 raised beds on the grounds of Village Shalom. Kaplan and Lehman put in a garden on the grounds of B'nai Jehudah in 2010, and an orchard was added in 2014. 
Kaplan is a member and former president of B'nai Jehudah. He described Luchen's forecasting for the garden as an added element "to our experience in trying to build out this garden."
"In the city, we don't appreciate the importance of weather, and especially of rain," he said.
Mitzvah Garden KC is important to the local Jewish community, Kaplan said, because "(t)he most important thing we can do as Jewish people is to heal the world."
"We bring healthy food alternatives to needy people," he said. "And people feel good when they're planting, maintaining, harvesting and delivering a crop, and there's no better feeling in the world than to donate that to a food pantry."
Three bee hives with 60,000 bees also are maintained on the garden's grounds.
"Those guys work hard for us," Kaplan said. "They pollinate three square miles around us."
Pest control is provided by hawks that live in the tree line at B'nai Jehudah, he said.
Luchen, whose family also belongs to B'nai Jehudah, hawks over his forecasting for the garden and updating the weather page on its website for roughly two hours a week. He also updates a weather-forecasting page on Facebook every day, and he uses some of that information for his Mitzvah Garden KC forecasts.
"What's happened over the years of the garden is that we've gone through extreme drought, especially in 2012," Sonnenschein said. "We had to figure out what to do with watering the garden. … In the meantime, Brad was at KU studying meteorology. Once he graduated, we thought wouldn't it be cool if he could forecast weather, focused on what's good for gardening."
In Mitzvah Garden KC's case, what's good for gardening is also good for the community.
"This is a program that's open to everyone in our community, of all ages, types and stripes," Sonnenschein said. "It is a project of the Jewish community, but it's bringing together all kinds of people with this common goal. "We sometimes refer to the garden as a living, learning laboratory for Jewish and secular studies. 
One example of that is the idea of teaching about the importance of water.
"On one level, it's essential for plants to grow, and essential for all life," Sonnenschein said. "The water-capture system addresses how you capture water in a way that's useful and environmentally sustainable. In our prayers for rain, the Shema and V'ahavta, it says that if you love God and follow God's laws, you will receive rain in its season. The word "matar" in Hebrew means rain, and another word for rain is "geshem," which is the kind of rain that fell in the story of Noah, torrential rain." 
It's well known that in Kansas City and the Midwest generally, weather can change abruptly and be hard to predict. Technology significantly improves the chances of accurate forecasting. But Mother Nature also gives lots of visual clues to the layman on the ground. Clouds gather, the rain falls, the sun shines, and the wind blows.
"The number one rule of forecasting," Luchen said, "is 'Always look outside.' "