Man charged with threatening Congregation Beth Shalom
Published: Thursday, 30 June 2016 10:00
Written by Barbara Bayer and Jerry LaMartina, Editor and Contributing Writer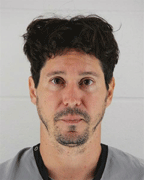 Last week a man was officially charged with making a threat to Congregation Beth Shalom. Neither officials at Beth Shalom, located at 143rd and Lamar in Overland Park, nor the Jewish Federation, which employs the Jewish community security director, would comment on the type of threat made to the congregation.
According to Johnson County District Attorney's Office spokeswoman Kristi Bergeron, Brian Donald Wachter, 40, allegedly made the threat on May 27. Police were called on May 31. Overland Park Police arrested him on June 23, and he was booked at the Johnson County Sheriff's office that same day.
Judge Charles Droege set Wachter's bond at $25,000. It was also ordered that a mental health evaluation take place before Wachter could be released on bond. As of Monday, Wachter, a resident of Kansas City, Missouri, was still being held in Johnson County Jail.
Should he be convicted, the maximum penalty for one count of criminal threat is 13 months in prison and a fine of as much as $100,000. As of Monday, the defendant's next court date had not been set.
Officials from Beth Shalom and Jewish Federation released almost identical statements to The Chronicle on Monday.
"We have complete confidence in law enforcement and our security professionals. They have assured us that the threat level remains unchanged," stated Richard Simon, president of the Beth Shalom board of directors. "Our facilities are secure. We encourage everyone to continue to participate fully in our services and programs."
The Federation's statement, provided by President and CEO Helene Lotman, added the following details: "It is business as usual throughout our community."
Unrelated to this threat, Simon added that "Congregation Beth Shalom has been reviewing and improving our security protocols over the last number of months. We will continue this process of improving the security at our site."
Information for this report was also provided by JTA News & Features.