Epsten Gallery spreads its wings, expands programs into the general community
Published: Thursday, 23 June 2016 10:02
Written by Barbara Bayer, Editor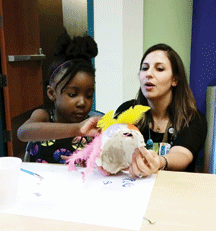 Last year Bill Kort, president of Epsten Gallery Foundation's board of directors, announced that the gallery wanted to widen its net by increasing its programming to appeal to an even broader range of people in the community. A year later, Kort can report that the gallery's net has indeed widened and its programs are now taking place on both sides of the state line.
Epsten Gallery's art therapist Kaley Wajcman had already been working with residents of Village Shalom. During the last year Wajcman, on behalf of the gallery and in partnership with Jewish Family Services, began conducting programs at Villa St. Joseph. Discussions are also taking place with another senior facility to begin a relationship with the gallery in the near future. 
A new program — this time a collaboration with Children's Mercy Hospital (CMH) — officially launched earlier this month. For now, Wajcman will design and administer programming for an ongoing CMH program called Partners in Play. She will be working with sick children once a month at the hospital. Kort said plans are to expand the Children's Mercy visits to once a week down the road. 
Missy Stover, child life volunteer and therapeutic programs manager at Children's Mercy, said she believes the wonderful thing about art therapy is that all children, regardless of their age or ability, are able to participate and feel successful.  
"For many patients that participate in art activities, we see them become more social, they smile, they laugh, they process and they allow us to learn about them in ways that we might not otherwise. 
"We have a variety of creative arts programs at Children's Mercy that bring art, music, movement and more, but this is the first time that we've been able to bring in a registered art therapist on a regular basis, so we are extremely grateful to the Epsten Gallery Foundation for making this possible," Stover continued. 
Kort said the new partnership with Children's Mercy has confirmed what members of the Epsten Gallery board always knew: Art therapy programs sponsored by the gallery would be beneficial to anybody that participated. 
"We saw it at Children's Mercy. The kids become engaged and enthralled in the project and are taken away from being in the hospital and what pain and suffering they may be going through," he said.  
Kort is thrilled that the Epsten Gallery has spread its wings and is helping other children and adults in the community. So far, Kort said the gallery is fulfilling the goals it set when it began increasing programming. He said the gallery's only limitations are staffing and, of course, the perennial need for funding for the programs it is providing. 
"We're sharing our good fortune with the entire community. We're not just a Jewish community asset, we're a community asset. That is the way our board has begun to picture our role. We have a great community asset. All we had to do is put it out there." 
Kort pointed out that the gallery has a broad community audience that enjoys it programming. Among those programs are ARTicipation workshops, which are open to the entire community and continue through July. (See box for details.) 
The gallery's programming year is not yet over and members of the community will hear more about the gallery in the upcoming weeks. 
"In the fall we have two great exhibits going up. The first one is a juried alumni show of the work of Kansas City Art Institute graduates. The finale for the year will be an exhibit of the works of Israeli photographer Yuval Yairi," Kort said.
Final 2 weeks of ARTicipation Pop-Up   Studio 2016: Time & Place!!
Community Art Workshop 
Sunday, June 26 (1-3 p.m.) 
Mix and Match: Fun with Collage 
Led by artist Kati Toivanen, participants will explore how artists engage juxtaposition and collage techniques in their art works. Historical and contemporary collage examples will inspire participants in their own collage creations with found objects, magazine imagery and a range of unconventional materials. 
Ages 8 – adult 
Limited Space: RSVP to reserve your spot!   
Last Open Studio Day: Friday, July 1  
Gallery hours: Tuesday – Friday, 11 a.m. – 4 p.m., Sunday, 1-4 p.m.  
Experience an open-studio adventure with friends and family in a continually evolving installation of art made by visitors of all ages. Contribute to an expansive Time-Line, a community puzzle-mural, and an installation of objects made and curated by visitors! 
For more information, contact Curator Heather Lustfeldt at 913-266-8414 or email This email address is being protected from spambots. You need JavaScript enabled to view it..