Jewish activist leads push for gun safety in Leawood
Published: Thursday, 16 June 2016 10:00
Written by Barbara Bayer, Editor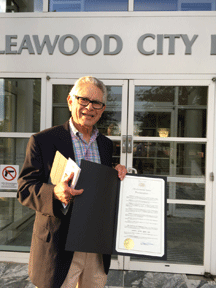 "Is there an unlocked gun where my child plays?"
That's a question the Brady Center to Prevent Gun Violence encourages every parent to ask before a child visits a friend's home.
Last week, Leawood became the first city in Kansas to endorse the Brady Center's ASK (Asking Saves Kids) Campaign. Leawood was encouraged to take this action by Harold Koch, a psychologist and Kansas City area native who recently moved to Colorado. He was on hand when the proclamation was read at the City Council Meeting on June 6.
"There is a Talmudic saying that, 'To save one life is to save the world,' " said Koch, who was asked to speak at the meeting following the proclamation. He'd one of the main organizers of Northeast Kansas Chapter of the Brady Campaign to Prevent Gun Violence and is a member of the Heartland Coalition Against Gun Violence and Grandparents Against Gun Violence.
"Today, you have taken a step to save many lives."
According to the Brady Center, in America, one out of three homes with children has a gun, and nearly 1.7 million children live in a home with a loaded, unlocked gun. Every year thousands of kids are killed and injured as a result. The ASK (Asking Saves Kids) Campaign promotes a simple idea with the potential to help keep kids safe. It encourages parents to ASK if there are unlocked guns in the homes where their children visit.
For more than a decade, the ASK Campaign and its supporters have partnered with more than 400 grassroots organizations to spread its message in neighborhoods nationwide. The ASK Camps is a collaboration between the Brady Center to Prevent Gun Violence and the American Academy of Pediatrics, which has promoted the ASK message to its 62,000 members across the country. The ASK Campaign has successfully inspired 19 million households to ask if there are guns where their children play.
Koch has been the director of the ASK program "since we formed the Northeast Kansas Brady Campaign Chapter to Prevent Gun Violence. I have a letter signed by 25 pediatricians at Children's Mercy Hospital endorsing the program."
He notes ASK is also endorsed by the National Association of Parents and Teachers, Pediatric Association of Nurse Practitioners, Office of Head Start, American Academy of Pediatrics, National Parent Teacher Association and the American Public Health Association.
He said the fact that Leawood made this commitment proves the old adage that relationships of all types are important. In this case, it was a connection he had made with Leawood Mayor Peggy Dunn through Hadassah, an organization they both have ties to.
Leawood has a sister city relationship with the Gezer Region of Israel. Koch first met Dunn at the dedication of Leawood's Gezer Park. They became friends after a chance meeting in Vail, Colorado. About a year and a half ago he decided to speak to her about his efforts aimed at gun safety for children and his work with physicians at Children's Mercy. On his own or with Dr. Denise Dowd and Dr. Kim Randell, Koch organizes workshops for parents.
"The idea is to educate adults about the importance of asking the question about whether guns are in a home where children play and how those guns are stored," he explained. "At almost every workshop, a parent will share privately their terrible story of losing a child. It's terrible. More kids are killed by guns than by car accidents."
Whatever a person's stance is on gun control, Koch stresses that the ASK program is about preventing accidental shootings. The statistics are staggering: 
Nine children under age 15 are accidentally shot every day.
Toddlers are shooting people at the rate of once a week. 
One in 3 homes with children have guns, many left unlocked or loaded.
Eighty percent of unintentional firearm deaths of kids under 15 occur in a home.
"Children, almost by definition, are curious, impulsive and influenced by their peers and that's why teaching parents about the ASK program is important," Koch said.
"Just telling children to stay away from guns doesn't work because they are so impulsive and so influenced by other children," he continued. "Maybe your kids know not to touch guns, but maybe the children they are with do not. That's why it's really important for parents to know if there are guns in the homes their children are visiting and make sure guns aren't accessible."
The askingsaveskids.org website suggests parents add the gun question to the list of other questions they might already ask, such as the discussion of any allergies, the use of seatbelts and the type of pets in the home.
"Basically, that question is: 'Are there guns in the home, and how are they stored?'" Koch points out.
"ASK is not about taking away guns, or somehow trying to make a law-abiding citizens feel badly about owning them. It is simply about asking that simple yet possibly life-saving question."
As for the city proclaiming ASK month, Koch said it is "is altogether logical and appropriate that the city proclaim ASK Month."
"A primary responsibility of any government, after all, is to protect the health, safety and welfare of all its citizens. We are pleased Leawood chose to observe the ASK program's effort's to protect our youngest and most vulnerable."
"We're saving kids' lives. I know it sounds corny but we are," Koch concluded.
Sheila Sonnenschein was among the two dozen or so who went to Leawood City Hall to support the ASK proclamation.
"It was inspiring to see what transpired (that) evening, where people of different political views could get behind the endeavor and that Koch was persistent and a catalyst for making June ASK month in Leawood," she said.
Across the country ASK DAY is set for June 21. It's a day to share the ASK message and remind parents to ask if there is an unlocked gun in the home where their child plays. It falls on the first day of summer, marking a time when kids typically spend more time at the homes of friends and other family members. For more information, visit askingsaveskids.org or get in touch with the local chapter of the Brady campaign by visiting bradycampaign.org and search for Northeast Kansas Chapter.