B'nai Jehudah sells Jeannette and Jerome Cohen Retreat Center
Published: Thursday, 10 April 2014 06:00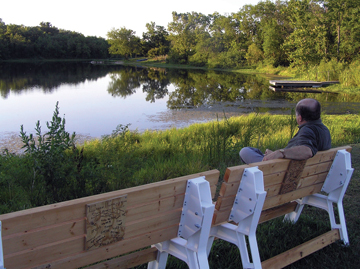 After nearly a year on the market, The Temple, Congregation B'nai Jehudah closed the sale of its Jeannette and Jerome Cohen Retreat Center on Feb. 27, 2014. The sale price was not disclosed. 
The 91 acre property, located in Cleveland, Mo., originally was acquired by The Temple B'nai Jehudah Brotherhood Camp Corporation, with financial support from Jeannette and Jerome Cohen, in 1979. The Brotherhood Camp Corporation gifted it to the general congregation in 1984. B'nai Jehudah members enjoyed retreats, picnics, camping and outings at the Cohen Retreat Center during this time.
 B'nai Jehudah's past president Andrew Kaplan led an effort over several years to improve the property and to offer it to other local Jewish organizations for their use. He said this strategy elicited little community interest.
"It's unfortunate that we could not work out a viable solution to keep the Retreat Center within the Jewish Community. However, the realities of today's community priorities made any sort of project unrealistic," said Kaplan, who also negotiated the sale.
Dan Stolper, B'nai Jehudah's president, said, "With the improved real estate market, our agent showed the property to a number of interested parties. The buyer is a healthcare entrepreneur who lives in Belton. He caught his first fish there decades ago and is very excited to begin making improvements to the property. I know that he and his family will be great stewards of the property." 
Stolper explained that the proceeds from the sale will continue to support retreat programming.
"Our board has approved a plan to invest the sale proceeds in the Jeannette and Jerome Cohen Retreat Fund in our endowment. This will allow us to honor the Cohens for their vision and generosity and provide ongoing retreats at rented facilities. I have been in touch with members of the Cohen family and they approve of this plan given their knowledge of the wishes of Jeannette and Jerome relating to the power of Jewish camping and retreats."
Informal education and retreats are a key element of B'nai Jehudah's educational programming. Machane Jehudah (Camp Jehudah) was attended by 39 students last summer and enrollment is open for summer 2014. The congregation's confirmation class held its 2013 retreat at The Wildwood Outdoor Education Center in LaCygne, Kan., and other retreats are planned.
Stolper concluded, "We will continue providing excellent retreat programming but will not have the expense or responsibility for maintaining a remote facility. I have confidence that this was a sound decision that will allow us to increase the quality of our programming while strengthening our financial health. We are grateful for the vision of Jeannette and Jerome Cohen. Their legacy of informal Jewish living remains vital and active at B'nai Jehudah."