Family's cooking show combines love of food and high-tech
Published: Thursday, 10 April 2014 06:00
Written by Barbara Bayer, Editor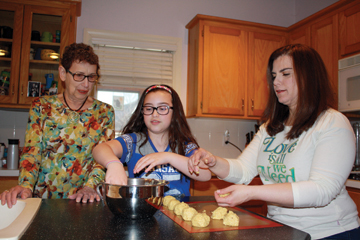 Eleven-year-old Bree Katz may not have known it when she was just a preschooler, but what started out as an afternoon of fun and family bonding has become something family and friends near and far enjoy, "Brianna's Cooking Show." 
The show stars Bree, a fifth-grader at Hyman Brand Hebrew Academy, and is produced by her older brother, 16-year-old Jacob, a sophomore at the Jewish day school. 
The first show was produced about seven years ago when Bree was only 4. Jacob wanted to play around with his new video camera and Bree was hungry. She wanted to make scrambled eggs. The rest, as they say, is history.
Looking back, Vicki Katz said early on the cooking show was a way for her two children to get her to cook something they wanted to eat.
"They always want me to cook and I want to get out of cooking sometimes," Vicki said. "As time went on, whenever they wanted me to make something, they would decide to make a cooking show."
Their father, Gary Katz, said the show is also a way "to keep everyone busy."
"I helped teach Jake how to do the editing while Vicki was teaching Bree how to cook," Gary said.
The owner of Mac M.D. Inc. (www.macmd.com), Gary said he prefers to stay behind the scenes as a director. But he has been known to help on camera, on occasion.
Over the past four years they've done eight episodes total, demonstrating such things as scrambled eggs, waffles, pancakes and granola bars. Some of the episodes have been related to Jewish holiday cooking — they've made hamantaschen and potato latkes. That's where Grandma Barbara "Baba" Katz enters the picture.
"I guest starred in the latke episode," Barbara Katz said. "I specialize in Jewish cooking."
"They make latkes every single year," Vicki said. "We wanted to capture it because they are THE best latkes."
"We make 250 every year," Barbara said. One year, the Katz family made more than 400 latkes to take to two different family parties.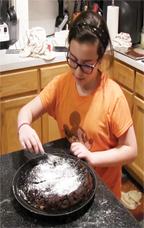 The latke episode was actually taped in Barbara's kitchen, the only that hasn't been produced at Vicki and Gary's Overland Park home. That's also the only episode that has been posted to the HBHA website. You can find it at www.rampagewired.com.
It's on the HBHA website because Jacob is a member of the school's tech club. As such, he has the opportunity to use the school's professional-level camera and editing equipment. That's how he produced this episode and decided to share it with the entire school community.
The family enjoys making new episodes and watching the old ones.
"You watch it and you listen to Bree talk and you can see how she's changed," said Jacob, while others in the family were chiming in how he's changed as well.
"You see when Bree and I were young and I couldn't hold the camera steady to now when it actually looks like a production," Jacob added.
In the early days Gary taught Jacob how to do just about everything for the show. As he grew older, Jacob said he began teaching himself how to do special effects and titles. He's very proud of how his techniques have advanced, especially for a surprise show they did for Vicki's birthday last summer. They made cinnamon rolls.
"I was excited to get the cinnamon rolls out for Mom's birthday, so I got that done quickly," Jacob said. "In what I like to call 3 a.m. editing, which is when I'm bored, I like to put in fun stuff. In that episode I used a Batman sound and put a spinning cinnamon roll in it."
There is no regular schedule for the shows. The Katz family puts one together whenever the desire hits them.
"Sometimes I'll say 'hey, we have nothing to do, want to make a cooking show?'," Bree said. Or, as Gary phrased it, Bree will want something to eat and "then we'll back it up and make a cooking show."
Bree, who has been in every show because it's got her name in the title, said she likes doing it "most of the time."
"I like being able to have a reason to get food. It's a good way to get something for dinner or dessert and sometimes breakfast," she said. There's always been another adult in the show, usually Vicki. But, Bree said "Baba is becoming a regular."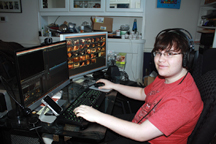 Just as most celebrity chefs recommend, Vicki keeps her pantry well stocked, so they can almost always do a show at the spur of the moment without even making a special run to the grocery store.
Even though Vicki said she often tries to get out of the chore of cooking, she actually likes to cook and bake. She learned it all from her grandmother Margueritte "Gammy" Davis. In fact Gammy was featured on the cover of The Chronicle making matzah balls with three generations of her family, daughter Helene Singer (Vicki's mother), granddaughter Lanie Browar (Vicki's sister) and nieces Melissa and Rebecca Browar. Vicki missed that photo shoot because she was away at college.
"I used to watch cooking shows with Gammy and then whatever she wanted to make she always could just whip it up. She never had a recipe," Vicki fondly remembers.
Vicki cooks that way as well. So the hardest thing for her when preparing for a cooking show is actually having a recipe to share.
"I don't use recipes most of the time. So I actually have to think about what I do and write it down and that's how they get the recipes," Vicki said.
There are at least two more shows in the works. Bree is clamoring for fudge. Jacob wants something a bit more complicated.
"I want rainbow cookies," Jacob said. "That one's complicated and we haven't gotten around to doing it yet."
The show is a hit with their family and friends.
"My friends and relatives will go make whatever we make. Then we'll get a phone call saying, that was really good," Vicki said.
Jacob only has two years of high school left, but that doesn't mean the show will end.
"I wouldn't mind coming back during breaks and doing shows," he said.
The newest Passover video can be found at http://youtu.be/xDPnTzLBlas, as well as Gary's YouTube channel http://youtube.com/frensleven. Or you can simply search YouTube for "Brianna's Cooking Show."