A trail of coincidences sends BIAV Torah south of the border
Published: Thursday, 10 April 2014 06:00
By Carol Katzman
Special to The Chronicle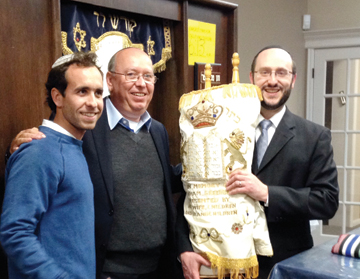 Little did Miamian Tomi Revai know that when he sat next to Rabbi Ari Rockoff at a Jewish Learning Institute in Virginia, it would lead to the transfer of a Torah from Kansas City to Cancun, Mexico.
Revai told the Long Island Rabbi Rockoff — brother of Rabbi Dani Rockoff, spiritual leader of K.C.'s Congregation Beth Israel Abraham & Voliner — that his son Danny had been travelling and surfing in Central America and met some Chabad friends in Nicaragua. When a newly formed Chabad House outside the capital of Managua needed a Torah, Danny persuaded friends and family in Miami and Venezuela to donate money to have a Torah repaired and sent there. Now one of Danny's new friends was starting another Chabad House, this time on Isla Mujeres, a small island off the coast of Cancun, frequented by Israeli backpackers and surfers, as well as Jews from America, South America and Europe.
The story was soon relayed to BIAV's Rabbi Rockoff, who suggested a solution.
"We're an old congregation and have more Torahs than we need," Rabbi Rockoff explained. "So, with the full support of our congregation, I arranged for an old Torah to be repaired by our community's own sofer, Rabbi Beryl Sosover, and then loaned to this new Chabad House."
At a ceremony last week, Rabbi Rockoff presented the repaired Torah to Tomi and Danny Revai, who told the story of how he brought the first repaired Torah to Chabad House in "the middle of nowhere" in Nicaragua. The elder Revai, who was born in Budapest and grew up in Chile and Venezuela, told the crowd gathered at BIAV, "Things are not planned by us; G-d plans and we're just little messengers in His master plan. We're now in Nissan, the month of miracles. All these coincidences seem like miracles, but it is really just a plan from G-d."
Rabbi Rockoff added, "This is not a time of crisis, where a synagogue lost a Torah due to a hurricane or fire. It's just a wonderful opportunity to help a small congregation. This Torah gives Chabad of Isla de Mujeres a more permanent ability to bring Jews together for Shabbat and Jewish holidays."
Following the speeches and presentation, the crowd danced around the bimah and then outside with the Torah, symbolizing the long trip ahead. The Torah will be delivered to Cancun just in time for Passover, the Sederim and the expected crowd of Jewish travelers — a miracle in itself.