Israel once again study abroad option at University of Kansas
Published: Thursday, 03 April 2014 06:00
Written by Kelli White, Contributing Writer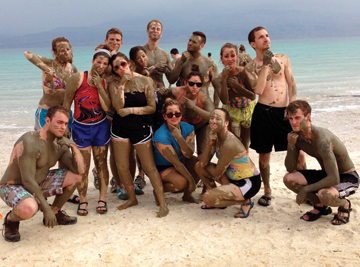 By Kelli White, Contributing Writer
Study abroad. That's something many college students dream of — especially those studying different languages and cultures. But for University of Kansas students in the Jewish Studies Program, studying in Israel was not supported by the university for more than a decade. Now, that has changed. 
When Professor John Younger became director of Jewish Studies on Jan. 1, 2013, he immediately set out to do two things: organize faculty meetings and start a study abroad program to Israel. 
"Since 2002, KU had not been supporting students going to Israel. Israel had been on a travel advisory warning and KU felt it could not officially support student travel there. They would have to un-enroll, go study, then re-enroll at the University," Younger said.
Younger, along with Director of the Study Abroad Office Angela Perryman, formed a united front and approached the University Council Office to change things.
"We have a large Jewish student population — an estimated 1,600 to 2,000 students," Younger said. "With that number, the university not sponsoring students to study in the core country was ridiculous. In other cultural departments, there is the assumption to study in the target country to learn the language and culture. For Jewish students in America, it seems obvious to go to Israel to immerse in the culture. Why have a Jewish Studies Program if they can't go to Israel?"
In 2013, the University Council Office reconsidered University support for a study abroad program to Israel and created a review committee and petition process that allows students to travel to countries with warnings. 
"Juggling the safety, personal passions and need for study is always the challenge from the perspective of the Study Abroad Office," Perryman said. "But now having Israel as an option is really beneficial for students and makes sense for academic progress. And given the limited time we've had this option — less than one year — student interest has been high."
Last summer, Perryman and Justine Hamilton with the Study Abroad Office connected with representatives from four Israeli universities to partner with KU and offer courses that satisfy KU credits. Younger hopes to expand those offerings as the program develops.
While the current Jewish Studies Program does not offer a major, the program has grown with more faculty, more courses and more students declaring minors. 
In the fall semester last year, KU officially supported students by offering an Innovation and Entrepreneurship trip to Israel that took place over winter break.
Professor Wally Meyer, director of entrepreneurship programs in KU's School of Business, organized and led this learning adventure in which 21 students from all areas of study participated. 
"The importance of the trip was to help understand why Israel is so accomplished in entrepreneurship and technology innovation as evidenced by its standing as second in the world (behind only Silicon Valley) in the number of technology startups created each year," Meyer said.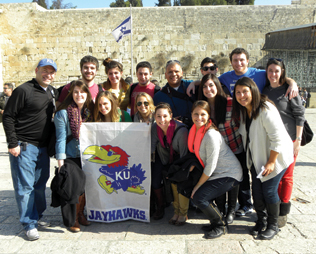 This trip was important for KU students interested in entrepreneurship, but also for the Jewish Studies Program in particular because it was the first University-supported excursion to Israel in such a long time. 
And it was a huge success. So much so, that another Innovation and Entrepreneurship trip is planned for January 2015. To sign up, students can contact Professor Meyer or the Study Abroad Office.
"The trip's itinerary includes studying at The Technion Institute, visiting a dozen or more start-up companies and touring key historic sites," Meyer said. 
In the post-trip analysis, all students were asked if they felt unsafe at any time and their response was "absolutely not." 
"The most common conclusion from the students in their reflection papers was 'it was a life-changing experience,' " Meyer said.
Everyone involved in supporting students going to Israel is happy that this is the first of many life-changing experiences for students. Including Rabbi Neal Schuster, KU Hillel's senior Jewish educator, who was also involved in pushing the study-in-Israel opportunity forward.
"This is huge for the Jewish community," Rabbi Schuster said. 
He explained the number of students studying in Israel in the past had dropped dramatically. Because the university didn't financially support it and didn't allow credits to transfer, students had to go to places like Florence or Barcelona when studying in Israel made more sense for their academic program.
"Now, when parents and students ask about studying in Israel, we can say, 'yes, through KU you can.' It's refreshing to say that," Rabbi Schuster said. "Now there is a significant upswing in students interested in choosing Israel."
But as with any revisited idea, it takes time to catch on.
"For 11 years, all people said was 'no, you can't go there.' It will take time for perceptions to change," Younger said. 
Younger, who is an archaeologist and has excavated in Israel, is a member of the University's advisory board and wants to develop the Jewish Studies Program to be like any other cultural or language program at KU. The Innovation and Entrepreneurship trip jump-started studying in Israel and he hopes to continue building interest with an archaeological tour this summer that will count for KU credit.
To make the tour cost effective, 15 students need to sign up. Right now, only four have submitted applications. But Younger isn't worried yet.
"We are still getting the word out about this study abroad opportunity. This tour will be a great opportunity to introduce students [in the Jewish Studies program] to the idea that, yes, you can go to Israel!" Younger said.
 An Archaeological Tour of Ancient Israel May 20-June 13
The 2014 trip to Israel is a three-credit-hour course taught by John Younger, professor of classics and the academic director of the Jewish Studies Program at the University of Kansas. Younger is internationally known as an archaeologist and art historian; he has traveled widely in the Mediterranean and has excavated at numerous sites in Greece, Italy and Israel. 
The program will focus on the cultures in Israel from Neolithic to Medieval, concentrating on Jerusalem and the archaeological sites of northern and central Israel. Study will include the development of the Prehistoric, Iron Age, Classical, Roman, Byzantine, early Arabian and Crusader cultures in Israel. Contact with the art, architecture, and archaeology will strengthen student appreciation of our Israeli heritage. 
Students will visit Jerusalem, Haifa, Nazareth and Tiberias. By the end of the program, students will have visited most of the important museums and sites in northern and central Israel.
For more information on this course and the exciting opportunity to study in Israel, visit jewishstudies.ku.edu/study-abroad.