Books showcase Passover recipes to make your mouth water
Published: Thursday, 03 April 2014 06:00
Written by Barbara Bayer, Editor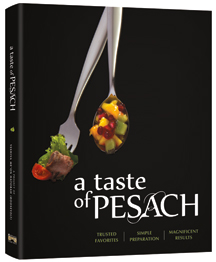 By Barbara Bayer, Editor
As the editor of a Jewish newspaper you would think it's simply impossible that Passover would sneak up on me, but it did. It's less than two weeks before the first Seder and I don't know how many people are coming to our home or what we'll be serving. We rarely change up the menu for the Seder, but there are a few things in each of these cookbooks I'd seriously like to try this year, if not for Seder then for another meal.
I only heard about two new cookbooks this year and "A Taste of Pesach," (ArtScroll/Shaar Press/March 2014) immediately caught my attention. The cover is simple but inside is full of beautiful photos of recipes — each recipe includes a photo — that are almost all five steps or less. Some are complicated, such as the Meringue Layer Cake that looks like it's best saved for a more accomplished cook than I, but it still looks yummy. 
It was put together by a group of women who got together for the first time six years ago to brainstorm fundraising ideas for Yeshiva Me'on HaTorah, a Jewish high school. The result of this meeting was "A Taste of Pesach," a recipe pamphlet series that became popular with tens of thousands of cooks. So they put together the best of this series and added new recipes to compile this beautiful book.
"A Taste of Pesach" presents an amazingly diverse set of recipes, from elegant starters like Chicken-Wrapped Asparagus Spears to kid-friendly favorites such as Chicken Nuggets. Featuring everything from traditional recipes like Gefilte Fish and Matzah Balls to modern dishes such as Seared Tuna and Chocolate Molten Cake, "A Taste of Pesach" has the recipe to fit every cook's needs, including more than 140 gluten-free recipes. It also has a spectacular cross-referenced index to help you find your favorite recipes.
The other cookbook that came across my desk this year was "Let My Children Cook! The Passover Cookbook for Kids," by Tamar Ansh (February 2014, Judaica Press). It's billed as a Passover hit for ages 8 to 108, and I have to say I love the simplicity of it. It's filled with more than 80 imaginative recipes such as Matzah Marshmallow Melts, Crunchy Chicken Crisps and Stuffed Matzah Balls. "Let My Children Cook!" includes cooking and safety guidelines, and explains general dietary laws and those specific to Passover — all especially catered to new, young chefs. The one thing that disappoints me a little about this book is that it is illustrated with drawings, not real photos of the actual food. 
The illustrations are well done, they just don't make any of the recipes appeal to me. But I do think mothers and grandparents — anyone who cooks with kids — will enjoy the recipes and simplicity of them. I plan to give several try.
Ansh, the author, lives in Jerusalem and is a bestselling cookbook author with hits such as "A Taste of Challah," "Pesach — Anything's Possible" and "A Taste of Tradition." She has published children's books and adult books, is a food columnist and gives live cooking and challah shows around the world.
Here's a sampling of recipes from these cookbooks for you to try in your kitchen: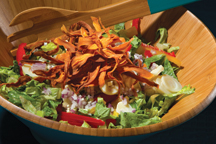 SWEET POTATO CRISPS SALAD
Pareve
Yields 8 servings
INGREDIENTS:
1 large sweet potato
¾ cup oil for frying
salad
1 (8-ounce) bag Romaine lettuce
½ red pepper, sliced into strips
½ yellow pepper, sliced into strips
1 (8-ounce) can hearts of palm, drained
1 small red onion, diced
dressing
½ cup olive oil
1/3 cup vinegar
½ cup sugar
3 cloves garlic, crushed
1 teaspoon imitation mustard
1. Prepare sweet potato crisps: Peel sweet potato. Using a vegetable peeler, continue to peel wide paper-thin strips of sweet potato.
2. Heat oil in a deep skillet. When oil is hot, add sweet potato strips a few at a time. When golden and crispy (about 5-7 minutes) remove with a slotted spoon. Can be made a few days in advance; store in an airtight container at room temperature.
3. Prepare the dressing: Place dressing ingredients in a small container. Shake to combine.
4. Assemble salad: Combine salad ingredients in a large bowl. Toss with dressing. Place sweet potatoes on top right before serving.
Recipe from "A Taste of Pesach." Reprinted with permission from the copyright holders: ArtScroll/Mesorah Publications http://www.artscroll.com/Products/TPEH.html
PULLED BRISKET
Meat
Yields 6-8 servings
 INGREDIENTS:
1 (3-4 pound) second cut brisket
1 tablespoon prepared horseradish
1 tablespoon imitation mustard
½-1cup ketchup, to taste
1 cup water
2 teaspoon garlic, chopped
¼ cup brown sugar
¼ cup vinegar
salt, to taste
pepper, to taste
INSTRUCTIONS: 
1. Preheat oven to 425°F.
2. Combine remaining ingredients in a 4-quart saucepan and cook over low heat for 10 minutes, stirring occasionally.
3. Place brisket into a roasting pan; pour sauce over meat in pan. Cover and seal pan tightly. Bake for 15 minutes.
4. Reduce oven temperature to 200°F. Bake overnight or at least 6 hours. Remove pan from oven and set aside until cool enough to handle. Wearing disposable gloves if desired, remove fat from meat and discard. 
5. Use two forks to shred the meat. Rewarm in sauce.
Recipe from "A Taste of Pesach." Reprinted with permission from the copyright holders: ArtScroll/Mesorah Publications http://www.artscroll.com/Products/TPEH.html
BLONDIES
I got this recipe from my sister's friend, Tova Wechsler. (author Tamar Ansh)
Let's get to it!
4 eggs
1½ cups sugar
1 cup oil
3 teaspoons vanilla extract
1 cup potato starch
3 teaspoons baking powder
2/3 cup ground almonds
1 cup chocolate chips
And here's how you do it!
1. Preheat the oven to 350°F (180°C).
2. Mix the eggs, sugar and oil.
3. Add the vanilla extract, potato starch, baking powder and ground nuts.
4. Pour this batter into a lined 9x13-inch baking pan.
5. Sprinkle the top with chocolate chips. Push them down part way into the batter.
6. Bake for 45 minutes until it is done in the center.
7. Cut into squares when cool.
You can also sprinkle it with powdered sugar before serving for a nice effect.
Pareve
Serves 10–12
Recipe excerpted from "Let My Children Cook! A Passover Cookbook for Kids," by Tamar Ansh, Judaica Press
EASY SAUCE CHICKEN
Let's get to it!
4 chicken legs, each cut in half so you have 4 thighs and 4 drumsticks
1 onion, sliced
½ cup mayonnaise
¼ cup apricot jam
3 tablespoons onion soup mix
1 cup ketchup
Paprika
And here's how you do it!
1. Preheat the oven to 375°F (190°C).
2. Place the chicken pieces into the roasting pan. Pat them dry with a paper towel. Throw out the paper towel when you are done.
3. In a bowl, mix the mayo, apricot jam, onion soup mix and ketchup.
Smear this mix underneath the skin of all the chicken pieces; smear the top of each piece with the remaining mixture.
4. Sprinkle paprika on each piece of chicken.
Lay the onion slices on top of all the pieces of chicken.
5. Cover the pan with parchment paper and then foil. Slide it into the hot oven and bake it for 45 minutes.
6. Uncover the chicken and baste it a bit. Return it to the oven and bake for another 20 minutes, uncovered.
7. Remove from the oven right away so it won't dry out.
Recipe excerpted from "Let My Children Cook! A Passover Cookbook for Kids," by Tamar Ansh, Judaica Press