IDFWO helps widows and children cope and thrive after tragedy in Israel
Published: Thursday, 27 March 2014 05:00
By Barbara Bayer
Editor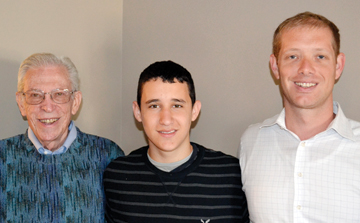 Those who know Harvey Bodker understand that he can get very emotional about the causes he deeply believes in. His newest cause is the IDF Widows & Orphans Organization (IDFWO), and he learned about it by chance on an airplane last summer.
It all started in August when Bodker, who is an active alumnus of Alpha Epsilon Pi fraternity, was on his way to the fraternity's 100th anniversary celebration. His plane to New York was delayed for several reasons, one being that a group of foreign students was stuck in security.
"As it turned out, there were 42 youngsters and 10 adults from the Israel Defense Forces Widows & Orphans Organization," he said.
During the flight he chatted with two of the young Israelis and one of the leaders. The group had been at a Jewish summer camp in the Wisconsin Dells and were planning to spend the remainder of their trip in the New York area.
Coincidentally, or maybe more appropriately luckily for the IDFWO, that group was also invited to attend AEPi's Shabbos dinner event on the USS Intrepid, a retired aircraft carrier now a museum in New York. 
When Bodker first met some members of the group on the plane, he didn't know that all the teens on the trip were orphans, in the Israeli translation of the word. That means these teens had lost one parent — usually a father — who died while protecting Israel. 
"I went to pieces, when I heard that," Bodker said. "From then on I was bound and determined I was going to get to know them and their cause better."
Meeting these young people, was "mind-boggling and life-changing" for Bodker. It was such a moving experience that he brought a fundraiser and an "orphan" — Daniel Tuksar, director of resource development, and Roi Schiffenbauer — here to get the word out about their organization and help them raise money. He arranged speeches at Congregation Beth Shalom, Kehilath Israel Synagogue and with the ROMEOS (a group of retired Jewish men) and organized a private event for friends to hear their story.
Tuksar was thrilled to be here, saying "it's not every day you meet a Zionist like Harvey." He pointed out that during the beginning, the IDFWO was a part of the Israeli government, but since 1991 it has been independently run and funded completely by private donations.
Tuksar explained IDFWO works with more than 5,000 widows and about 3,000 boys and girls who are left without a parent. Only seven professionals run the organization along with a voluntary chairwoman — a widow herself who is democratically elected by her peers.
"The bottom line for the organization is for the widows to spend time together," Tuksar said. "This is important to them, so it's important to us. When they get together they are able to talk, to relate to each other, cry, laugh, hug and embrace each other. We do our best to keep them connected."
IDFWO takes women on retreats, sends presents to the widows on Rosh Hashanah, connects widows with each other, offers classes and provides emergency medical and financial assistance.
"It's just a warm, second home to them," Tuksar said.
But the majority of the work IDFWO does is with the children. The children continue to live with their surviving parent.
"We are there for them whenever the father is supposed to be with them," Tuksar explained. These times include the beginning of first grade — providing them with backpacks full of school supplies — Bar-Bat Mitzvah trip to North America to Jewish communities (this is where Bodker met the kids) and a Bar-Bat Mitzvah celebration at the Western Wall attended by Israeli dignitaries who embrace the children. Camps are also held during various times during the year especially Chanukah, Sukkot and Passover vacations. The camps are for kids between the ages of 12 to 18 from all over Israel.
"We do fun stuff but we also have therapy sessions," Tuksar said. "They are usually the only kids in their schools who have lost a parent so you can imagine how important it is to spend time with each other."
IDFWO also presents scholarships and wedding gifts to these now-grownup teens.
Roi was almost 13 when his father was killed in a helicopter training accident in Romania. He's now a junior in high school and will join the IDF following his high school graduation. He was featured in story that aired on Israeli television, which was shown to those attending the private event. He spoke about his father, what it was like when the family heard about the accident, and why the IDFWO is important to him and his family.
"The only people that can understand my loss are the people who have experienced the same loss as me. So we have the same things in common and we can talk about our loss. It's very nice to see someone who can understand you," said Roi, who lives on Moshav Kidron, an area he described as "a very nice neighborhood near Tel Aviv."
Roi explained that the organization's activities for the widows, especially the vacations and camps for the children, are very important to them.
"It's very hard for my mother to handle three kids during this vacation," he said, explaining that while he and his older brother were on IDFWO-sponsored trips and activities, she could rest and care for only one child.
Roi's older brother is now in the IDF. His younger brother just turned 12, making him eligible for IDFWO camps and trips.
"He can take the Passover trip and then the Bar and Bat Mitzvah trip to the USA," Roi explained.
This is the second time Roi has been to the United States, the first time he came was on an IDFWO Bar-Bat Mitzvah trip. This fundraising trip lasted 10 days and took him to Key West, Fla., where they experienced "nice weather," and here.
Roi said it was very generous of Bodker to host the Israelis in his home and called him a "very nice man." They had a very busy few days here, visiting the Harry S. Truman Library, eating Jack's Stack barbecue, and attending the Kansas City Symphony as well as making the four presentations. 
"This organization is very important for me and my friends. I hope people understand my needs because it's very hard without our fathers and this organization really serves as a second home for us. It's very, very nice to be there with my friends," Roi said.
Tuksar pointed out that taking care of kids like Roi and their families takes money. For instance it costs $300 for first-grade supplies per child, $1,200 per child for the Bar-Bat Mitzvah celebration in Israel and $900 for the three annual retreats per child.
"If we don't support them, who will," Bodker notes.
Tax deductible donations may be sent to P.E.F. Israel Endowment Funds, Inc., 317 Madison Ave, Suite 607, New York, NY 10017. Make checks payable to: P.E.F. Israel Endowment Funds, stating in the memo section the donation is for IDFWO.