Lituanian-Israeli violinist thrilled to be part of tribute concert at Helzberg Hall
Published: Thursday, 27 March 2014 05:00
By Barbara Bayer
Editor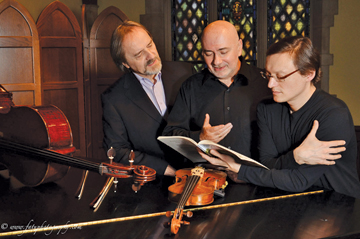 Ben Sayevich has played in a lot of concert venues over the years. Next week Sayevich will get his first chance to play at Helzberg Hall at the Kauffman Center for the Performing Arts when his Park Piano Trio performs. The concert, to be held at 7:30 p.m. April 4, celebrates the 10th anniversary of Park University's International Center for Music. Stanislav Ioudenitch, gold medalist of the 2001 Van Cliburn International Piano Competition and founder of the ICM and his protégé and rising star — and 2009 winner of the London International Piano Competition — Behzod Abduraimov, will also perform in the special Van Cliburn Tribute Concert.
"It is very exciting. It's definitely one of the best halls in the country, if not in the world. So we are very much looking forward to it," said Sayevich, a professor of music at Park, in a phone interview last week.
The concert itself, Sayevich said, is an important event.
"It's commemorating the life of Van Cliburn, a very important, great musician," he continued. "It is very important for any musician to play a part in a concert for somebody who is so admired by so many people."
Ioudenitch will perform in the first half of the concert. Ioudenitch is currently associate professor of music and the artistic director of the Youth Conservatory of Music at the ICM. Abduraimov will also perform in the first half of the concert. 
Sayevich is very complimentary of the young pianist.
"At 22 he's now one of the leading pianists of his generation and he's a student of ours at Park. He's trained already with major orchestras such as the Boston Symphony and will play in Carnegie Hall. He's a very distinguished young pianist," Sayevich said.
The Park Piano Trio, consisting of Sayevich, Ioudenitch and cellist Daniel Veis, will play Peter Tchaikovsky's "Piano Trio in A Minor."
"This piece is very appropriate because it's very dramatic and very long and it's celebrating life. It's very appropriate in memory of Van Cliburn because he won the Tchaikovsky competition in 1958. That was the first Tchaikovsky competition ever and in those days it was the height of the Cold War and he was a young American from Texas winning the gold medal in Moscow. For Russians, he was an incredible symbol of how music transcends politics and he was very much loved by everybody in Russia," Sayevich said.
"It's very fitting to play the Tchaikovsky piano tribute because not only is that piece in memory of a great artist, but also it is Tchaikovsky, which Van Cliburn had a very big affinity for all his life.
"Our pianist also won the Van Cliburn competition, so it's all those connections."
Sayevich the violinist
Sayevich moved to Israel in 1971 from Lithuania when he was 12. Nine years later, just one day after he completed his Israeli army service, he came to the United States. He's been in this country ever since.
"I was discharged and then the next day I was in New York and started to audition for schools."
In September of 1980 he enrolled in the New England Conservatory.
"I came here to study with this very well-known teacher Dorothy Delay," he said. He earned the prestigious artist diploma from the conservatory and was a teaching assistant to Eric Rosenblith.
When he came to the United States to study, he really didn't know where he would live after that. But he was offered a job at the University of Kansas a short time before he graduated. So a month after graduation he was living in Lawrence, Kan. 
"I stayed, but my two brothers are in Israel so I go there at least once a year," said the Jewish violinist who now lives in North Kansas City with his wife and 4-year-old daughter. He was at KU from 1987 until 2006, when he joined the staff at Park.
"My background is very Jewish, not religiously Jewish, but traditionally Jewish. For example my first language at home was Yiddish. My parents talked Yiddish with each other. That was the first language I heard," said Sayevich, who speaks four languages fluently — English, Yiddish, Hebrew and Russian. He also speaks Lithuanian and German.
Not only has he taught music for many years, he has concertized extensively throughout North America, Europe and the Far East, and has appeared on radio and television as a soloist and chamber musician. He is featured as the soloist in a recording of Vivaldi's "The Four Seasons," with the Kansas City Chamber Orchestra. One of the most important works in his repertoire is the Violin Concerto by Alban Berg, for which he was chosen to play at the New England Conservatory's celebration of the composer's centenary. Sayevich's interpretation carries the tradition that comes down directly from the composer, through his work on the piece with the late Louis Krasner, the commissioner, dedicatee and the violinist at the work's premiere.
He said he plays strictly classical music, but "sometimes I play Klezmer music just for fun."
Sayevich is currently in London playing with the London Chamber Music Society, something he has been doing since 2002 "two, maybe three times a year."
Tickets for the Van Cliburn Tribute Concert are available through the Kauffman Center for the Performing Arts at www.kauffmancenter.org, 816-994-7222 or at the Kauffman Center's Box Office, 1601 Broadway.