Former Kansas Citian, Beth Torah member finds her niche in Peace Corps
Published: Thursday, 20 March 2014 06:00
Written by Marcia Montgomery, Community Editor
By Marcia Montgomery
Community Editor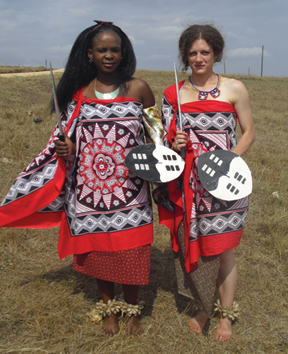 Rachel Sweenie has traveled a great distance in her 25 years. She was born in Chicago and moved to the Kansas City area with her family when she was in first grade. After graduating from KU, she moved to Washington, D.C. Now, via the Peace Corps, she lives and works in Swaziland, Africa, where she has been since June 2013.
Sweenie says she can't share the name of her community in Swaziland, "but I can share that it is very rural and very beautiful. I live in the mountains where the weather is generally temperate. I stay with a wonderful host family and have my own house on the homestead."
The daughter of Congregation Beth Torah Music Director Linda Matorin Sweenie, Rachel Sweenie says life in Swaziland is quite different than the 9 to 5 job she had in D.C.
"No day is ever the same. I am very fortunate to have electricity in my house and running water on my homestead," she says. "The biggest differences for me are hand washing clothes, not always understanding what people are saying — English is everyone's second language here — and getting used to cultural differences like wearing skirts most of the time and not using my left hand as a sign of respect to the King."
She and other Peace Corps volunteers spent their first eight weeks in training learning SiSwati (the native language), studying Swazi history and culture, and preparing for the types of projects they would implement in their communities.
Health Issues
According to research, Swaziland is critically affected by HIV and AIDS. The CIA World Factbook reported in 2012 that 25.8 percent of all adults are infected with HIV and the life expectancy in Swaziland is 50 years. An estimated 5,500 people of an approximate population of 1,185,000 dies from AIDS every year. In 2004, the Swaziland government acknowledged for the first time that it suffered an AIDS crisis, with 38.8 percent of tested pregnant women infected with HIV.
Tuberculosis is another significant problem, with a mortality rate of 18 percent. Eighty-three percent of tuberculosis patients are co-infected with HIV.
"There are indeed a number of health issues in Swaziland," Sweenie says. "The government and many NGOs (non-government organizations) have been working hard to combat these issues. Treatment is free and widely accessible, and in the past few years there has been a big push for prevention of mother-to-child transmission.
"All pregnant women are tested when they come in to the hospital for prenatal care, and those who test positive are provided with anti-retroviral treatment (ARVs) to prevent the disease from passing to the fetus."
HIV/AIDS education is nothing new in Swaziland, Sweenie says. "In fact, it has been drilled into the youth, both in school and through the disease's impact on every person's life. I think it is safe to say there is not a single person in this country who hasn't been affected in some way.
"That said, my work is more focused on life skills and empowering people, whether that's encouraging young girls to stand-up for themselves or teaching someone who takes ARVs how to keep healthy."
Sweenie says she's not exactly sure what she expected from the Peace Corps; she tries to live her life without expectations. She did think, however, that she would be more involved in HIV/AIDS education — her official job title is community health educator — but the work is varied.
"Gender-based violence and inequality are also big issues. A large part of what we do as Peace Corps volunteers is try to empower youth, particularly girls, to stand up for themselves and make good choices with regard to sexual and reproductive health.
"Right now I spend time in the schools doing life skills — activities designed to address self-esteem, decision making, goal setting, health, etc. — and library time, as well as work with an HIV support group," she explains "A friend and I are also in the process of starting clubs and support groups to address issues of teenage and unplanned pregnancies, which are quite common in our rural community. Some days are incredibly busy, while others are not. The pace of life is much slower here — people refer to it as 'Swazi time.' "
What's Next?
Sweenie's degree is in human biology, with a psychology concentration. In D.C., she worked as a research assistant at Children's National Medical Center. The research focused on the psychosocial aspects of living with and managing Type 1 diabetes in children, teens and young adults.
When she returns home to the States around August or September 2015, she says she plans to continue pursuing a career in pediatric psychology, working with youth with chronic illnesses.
For now, she is happy to be gaining experience working on health issues in a different culture.
"It is easy to get caught up in the notion that Swaziland is a poor country that has been devastated by the HIV/AIDS crisis. While this is true according to statistics, one of my goals is to get people to see past the numbers," Sweenie says. "Swaziland is a beautiful, vibrant country, and Swazis are some of the friendliest, most kind-hearted and jovial people I have ever met.
"Yes, they have faced and continue to face a multitude of hardships that most of us will never experience in Kansas City. Despite this, I am incredibly grateful to have the opportunity to live and work in this wonderful country."