The Jewish Community Center celebrates 10 years of community theater productions at White Theatre
Published: Thursday, 20 March 2014 06:00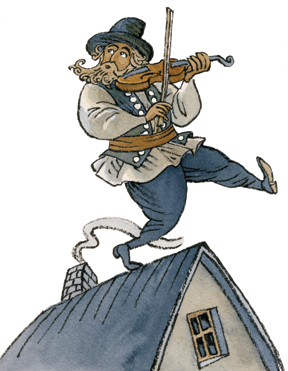 The hit musical "Fiddler on the Roof" will open the 10th season at the White Theatre. A partnership with The Theatre in the Park, "Shrek," will close it. Of course there will be all sorts of variety in between, announced JCC Director of Cultural Arts Krista Blackwood.
" 'Fiddler on the Roof' and 'Shrek' will make great bookends to our 10th season in the Lewis and Shirley White Theatre," Blackwood said.
Each of the five self-produced shows will feature a different production team with talent including Steven Eubank, the artistic director of Egads! Theatre Company, Paul Hough, the former director of production for the American Heartland Theatre, Tim Bair, the producing artistic director of Theatre in the Park, Bill Christie, a veteran of American Heartland Theatre, Barb Nichols, who directed the White Theatre's 2013 production of "Les Misérables" and Daniel Doss, who most recently has been the associate conductor for the international Broadway tour of "The Addams Family."
"We're pleased to welcome these well-respected directors and music directors to our facility, and we look forward to a vibrant community theater season under their talented leadership," says Blackwood.
The season will open with a rousing "L'Chaim!" as Steven Eubank, with musical direction by Daniel Doss, bring "Fiddler on the Roof" to life. In January, Barb Nichols will direct the Tony award-winning Charles Busch comedy "Tale of the Allergist's Wife." In February, Paul Hough will bring "From Berlin to Broadway with Kurt Weill: A Musical Voyage" to Kansas City area audiences, a cabaret production for which he received the Los Angeles Drama Critics Circle Awards. In April, Bill Christie will take the helm of John Steinbeck's "Of Mice and Men" and in July Tim Bair will direct "Shrek," a co-production with Theatre in the Park.
"It is shaping up to be a 10th season to remember," says Blackwood. "Of course, our community theater productions are only part of our season. We will announce our Visiting Artist series at a later date and we are very excited about the great collaborations we've cooked up. Stay tuned!"
'Fiddler on the Roof'
Nov. 8 – 23
Book by Joseph Stein
Music by Jerry Bock
Lyrics by Sheldon Harnick
Based on Sholem Aleichem's stories by special permission of Arnold Perl 
Directed by Steven Eubank
Musical Direction by Daniel Doss
"Fiddler on the Roof," has captured the hearts of people all over the world with its humor, warmth and honesty. Based on the stories of Sholom Aleichem, "Fiddler on the Roof" features timeless songs such as "Tradition," "Matchmaker," "If I Were a Rich Man" and "Sunrise, Sunset." Join in the tears of laughter, joy and sadness as Tevye, a poor milkman, tries to keep his family's beloved traditions and faith strong in a changing world where life can be as precarious as a Fiddler on the Roof.
Rated PG
'Tale of the Allergist's Wife'
Jan. 10 – 18, 2015
By Charles Busch
Directed by Barb Nichols
Marjorie Taub, a middle-aged Upper West Side doctor's wife, is engulfed in a life crisis of Medea-like proportions. She tries to lose herself in a world of art-galleries, foreign films and avant-garde theater, but nothing shakes her lethargy. Marjorie's spirits suddenly soar when Lee Green, her fascinating and somewhat mysterious childhood friend, appears on her doorstep and turns her world upside down.
Rated PG-13
'From Berlin to Broadway with Kurt Weill: A Musical Voyage'
Feb. 14-March 1, 2015
Music by Kurt Weill
Lyrics by Maxwell Andersen, Marc Blitzstein, Bertolt Brecht, Jacques Deval, Michael Feingold, Ira Gershwin, Paul Green, Langston Hughes, Alan Jay Lerner, Ogden Nash, George Tabori and Arnold Weinstein
Text and format by Gene Lerner
Musical arrangements by Newton Wayland
Originally directed by Donald Saddler 
Originally produced by Gene Lerner and Hank Kaufman
This production revised by Paul Hough and Joe Van Slyke
Additional arrangements by Scott Harlan
Directed by Paul Hough
"Berlin to Broadway with Kurt Weill" is a joyous and moving celebration of Kurt Weill, a cantor's son and one of the most extraordinary composers of the 20th century. Weill's greatest theater songs are presented in a fluid blend of music and story, spanning 20 eventful years, from Von Hindenburg and Hitler in Germany to Roosevelt and Truman in the United States. Weill created some of the most popular and daring musical theatre pieces of his day, collaborating with a dazzling array of literary giants — Bertolt Brecht, Langston Hughes, Maxwell Andersen, Alan Jay Lerner and Ira Gershwin — blurring the boundary between "serious"and "popular" music. This revue artfully mixes cabaret and commentary to tell Weill's story, featuring timeless hits like "Mack the Knife," "Speak Low" and "September Song."
Special on-stage cabaret seating
Rated PG-13
'Of Mice and Men'
April 11-19, 2015
By John Steinbeck
Directed by Bill Christie
The Nobel Prize-winning American writer John Steinbeck brings his birthplace, California's Salinas Valley, to memorable life in this touching and tragic play. Two friends, George and Lennie, drift from farm to farm, dreaming of owning a piece of land to call their own. When Lennie runs into trouble, George must choose between his friend or staying the course to fulfill his dreams. A story of friendship, loneliness, racism and the struggle for personal independence, "Of Mice and Men" is the tale of the poignant journey of two people striving for a better life and a little piece of the American Dream.
Also includes student matinee performances
Rated PG-13
"Shrek"
July 11–26, 2015
Music by Jeanine Tesori
Book and lyrics by David Lindsay-Abaire
Based on the DreamWorks Animation motion picture and book by William Steig
Directed by Tim Bair
In a faraway kingdom turned upside down, things get ugly when a swamp-dwelling ogre — not a handsome prince — shows up to rescue a feisty princess. Throw in a wise-cracking donkey, a villain with a short temper, a cookie with an attitude, and many other fairy tale misfits, and you've got the kind of mess that calls for a real hero. Luckily, there's one on hand … and his name is Shrek.
Featuring a terrific score of 19 all-new songs, big laughs, great dancing and breathtaking scenery, "Shrek The Musical" is part romance, part twisted fairy tale, and complete irreverent fun for everyone!