Sporting KC adds local Jewish player to its roster
Published: Thursday, 06 March 2014 05:00
Written by Barbara Bayer, Editor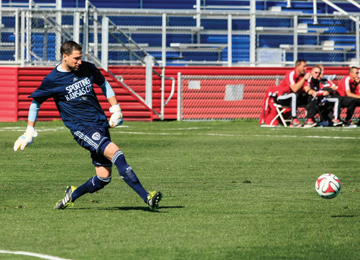 A dream will come true for Andy Gruenebaum at 7 p.m. Wednesday, March 12. That's when the 30-year-old professional soccer player will officially take the field for the first time as a member of Sporting Kansas City. The team will face Mexican club Cruz Azul.
Gruenebaum is excited to be playing here in Kansas City on a regular basis, not just as a visiting player. 
"Being able to play in front of family and friends  — people that I grew up with playing soccer as a kid — and just coming all this way full circle and playing in that stadium in front of that crowd is all just special. (We are looking forward) to be able to live like normal people in the city that we were going to eventually end up in. It is something that we've dreamed of," said Gruenbaum last week during training camp. His wife, Lacey, is also from this area.
For the past eight seasons the Overland Park native has played for the Columbus Crew. The Crew traded Gruenebaum to Sporting KC following the 2012 season in exchange for a second-round pick in the 2016 MLS SuperDraft. He joins Benny Feilhaber as the second Jewish player on the team. The team officially opens the season Saturday night, March 8, at Seattle.
The home game March 12 is part of a competition called the CONCACAF Champions League, which is a tournament featuring the top teams from North America, Central America and the Caribbean. The MLS Cup champion's official opener is actually at 7:30 p.m. March 15 against FC Dallas.
Grunebaum, the son of Congregation Ohev Sholom members Kris and Mike Gruenebaum, is fighting for the team's top goalkeeper spot along with Eric Kronberg and Jon Kempin, another home-grown player. The regular goalkeeper spot became open after the retirement of Sporting KC's MVP Jimmy Nielsen.
At the time of the trade, Sporting KC Manager Peter Vermes spoke very highly of Gruenebaum.
"Andy is a very capable goalkeeper, someone who has been successful in Major League Soccer and has had a lot of games in the league," said Vermes. "He is a great addition to our team and a complement to our goalkeepers. We needed someone with a lot of experience because we're in multiple major competitions in 2014."
A 2001 graduate of Blue Valley North High School, the 31-year-old, 6-foot-1-inch, 175-pound Gruenebaum will wear No. 30 for Sporting KC. He was drafted by the Columbus Crew right after graduating from the University of Kentucky. He said the Crew and Sporting KC are the only two pro teams he ever wanted to play with.
"I've been kind of spoiled to now be able to play for both," he said.
In eight seasons with the Crew he made 82 appearances in MLS competition (including playoffs) with 277 saves, 18 shutouts and a 1.27 goals against average. He led MLS with 124 saves in 2012 and was a finalist for MLS Goalkeeper of the Year after being named the Crew's MVP and Defender of the Year. Last season, he conceded the second fewest goals (28) among goalkeepers with a minimum of 15 games played.
Learning he probably didn't have a future with the Crew at the end of last season led to a lot of sleepless nights for Gruenebaum during the offseason.
"I was worrying about where I was going to play the next year," he said. "In the end landing here was a dream come true and really better than any vacation I could have taken."
When Gruenebaum was younger, the local team was first known as the Wiz and then the Wizards. As the Wizards, the team won its first MLS championship in 2000, the same year Gruenebaum was named the NSCAA Kansas Player of the year as a senior at Blue Valley North and earned a spot on the Midwest Region team. 
"We had season tickets for the first few years when they were the Wiz and then the Wizards and we went to all the games," he said.
He knows the organization has rebranded in recent years, changing owners, its name and its home field among other things.
"They are headed in the right direction and are really the flagship for other MLS teams looking to rebrand and give new life to the city and the game. I think it's special to come play for this organization," he said.
Gruenebaum has been a goalkeeper for most of his career.
"There were times coming up when I played a little bit of everything but I liked that position the best. You get to dive around and wear cool jerseys. It's a little bit different," he said. "You've got to be a little off to play goalie."
Now in his ninth season as a pro, he's not sure how long he'll continue playing.
"That's a good question," he laughed. "As long as my body will hold up. As a goalkeeper you can play for a long, long time so I'm hoping that's going to be the case. I'm taking it year by year and just surviving. I'm hoping to play a few more years for sure."
What advice would he give other young players wanting to play pro soccer?
"I would say do a lot of yoga," he said, laughing once again. "If I would have done that my body would feel a lot better than it does right now." 
Seriously, he said he would tell these young players to simply have fun.
"It's still a game. I know it's competitive and the nature of soccer growing up is different and changing and evolving rapidly, some in a good way and some in a bad way. But I would say at the end of the day to remember it's a game and it's supposed to be fun and this is something that you are supposed to truly enjoy. If you are getting pressured and getting burned out, then you're going to lose that joy and passion. It takes a support system to get there, too. You just can't take life too seriously."
Yes, fans, Gruenebaum still enjoys the game.
"It can be a grind and it can be a lot of things. But the biggest thing is to just remember at the end of the day when times are going tough that it is a game. This is something that you're supposed to love doing and it's not supposed to be considered work."
He's genuinely happy to be back in the Kansas City area.
"I'm really hoping to get involved with the community and just get to know people. I'm very easy going and relaxed and I love to meet new people. So I'm excited to get involved with the fan base and really just meet some great people."
Twitter fans can follow him @gbaum30. Ticket information is available by calling 888-4KC-GOAL or