Beth Liss to represent Jewish Federation on national level
Published: Thursday, 06 March 2014 05:00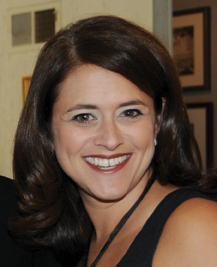 Beth Kaplan Liss has been selected as the 2014-2015 co-chair designate/2015-16 co-chair of Jewish Federations of North America's (JFNA) National Young Leadership (NYL). Liss will begin her two-year term in June, alongside co-chair Josh Green, of Sarasota-Manatee, Fla. Together, they will represent Jewish Federation young leadership across North America, which includes 154 Jewish Federations in the United States and Canada.
"We couldn't be happier to see Beth taking on a role of this magnitude within Jewish Federation," said Todd Stettner, president and CEO of Jewish Federation of Greater Kansas City. "It's a very competitive selection process, and a well-deserved honor for Beth."
"Beth is a role model both for Cabinet and Kansas City and no one has done more to earn this opportunity. The outpouring of support she continues to receive since this announcement demonstrates that many will be closely following her continued leadership rise, now moving onto the national stage," said Robb Lippitt, current co-chair of JFNA's National Young Leadership, a member of the JFNA Development Cabinet and a member of JFNA's Marketing Committee. 
"I'm thrilled to have this opportunity," said Liss. "I am deeply passionate about the cause and — thanks to those who have come before me, and those who will come after me — I feel well prepared for l'dor va'dor,  to continue building our future." 
The selection process is a rigorous one, and, according to National Young Leadership, it "signifies the continuity of excellence in leadership and the awesome responsibilities that go with it." 
NYL is a local, national and international network of socially conscious Jews in their 20s, 30s and early 40s. Young leadership programs offer a wide variety of opportunities for next gen to find meaningful ways to get involved in Jewish Federation, from helping local people in the Jewish community to ensuring the safety of Jews overseas, from advocating for social services to strengthening Jewish life in Israel.
During their first year, the chairs designate focus on the NYL Cabinet campaign and participate alongside the chairs to gain experience in the leadership team. In their second year, they help shape the vision of National Young Leadership and help execute its mission, working closely with the NYL department to achieve their goals.
As co-chair, Liss will play a very active role among young leadership, working with next gen leaders from across North America. She will also represent NYL on JFNA's executive committee, board of trustees, and Philanthropic Resources Development Cabinet. 
"It's a great honor and privilege to be selected for this position, and I am confident Beth's success in this role will be given back 100-fold to Kansas City. Our mission is to sustain and enhance Jewish life at home and around the world, and Beth continues to exemplify that mission," said Patricia Werthan Uhlmann, board chair, Jewish Federation of Greater Kansas City.
"Kansas City has continued to play a national leadership role in the Jewish Federation system, as well as internationally, and we are fortunate to have someone of Beth's caliber representing us nationally. Beth is a wonderful example of the kind of leadership that Kansas City is producing," continued Uhlmann. 
Sarah Beren, executive board member, Jewish Federation of Greater Kansas City, and current NYL Cabinet member agrees with Uhlmann, "Beth's appointment is great for Jewish Federation young leadership. As a leader of leaders, Beth will bring her connections, passion, knowledge — and now a bright spotlight — to Kansas City."
And Liss plans to do just that. 
"Kansas City has so much to bring to the national table. I am looking forward to sharing the perspective of a mid-sized Jewish community with the entire Jewish Federation network. We can all learn from each other."  
As to what lies in her future? 
"Beth will go far in her work to sustain and enhance Jewish life. Her passion for Jewish community and the energy with which she has embraced the work of Jewish Federation make her unstoppable," said Stettner. 
"Beth brings unrivaled passion and experience for the mission of engaging young Jews in the Jewish community and federation system.  Beth's genuine warmth and sweetness combine with strategic and tactical acumen to make her a tremendous leader who consistently achieves positive results in whatever she takes on," said Lippitt.