Party at The Barn with renowned musician Eric Bikales
Published: Thursday, 06 March 2014 05:00
Written by Kelli White, Contributing Writer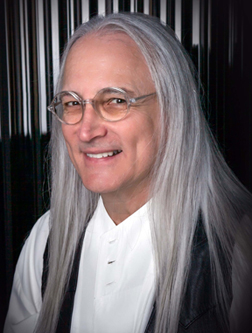 The arts have always been important to Vida Bikales, president of the board for The Barn Players Community Theater. Her parents ensured she grew up in a house full of music, theater and visual arts. In fact, they instilled a house rule that Vida and her siblings each had to start piano in the first grade and choose a second instrument by fourth grade. Vida's brother, Eric Bikales, "was the one who hated to practice the most, and he's the one who became a professional musician!" 
Vida, who retired from a career in pharmaceutical sales, chose to keep the arts in her life through serving as president of the board for Camelot Academy, a fine arts camp for kids started by her parents, and by volunteering at The Barn Players for the last eight years. Her brother Eric has had a long, successful career as a composer and performer, and he will perform at The Barn Players Theater on March 12  in honor of Vida's 60th birthday. 
Vida and her boyfriend, Kerry Kirk, are each celebrating 60 years young this year and wanted to have a party that gave back to a cause so important — community theater. 
"Community theater is such an amazing outlet not only for talented people who have other careers, but is also a proving ground for people who do want to make performing arts their profession," Vida said.
Thanks to The Barn Players, many actors get the experience and exposure to pursue their dreams, and for some, that journey takes them all the way to New York City. The Barn has produced Broadway performers and film actors, including Oscar-nominated actor Chris Cooper.
"We take our mission very seriously, which is to nurture artists (musicians and actors) while they practice their craft. We are proud to be a platform for an actor's professional career if that's what they choose," Vida said. 
The Barn also offers theater classes for kids and hosts an original play festival each year that invites local playwrights to submit 10-minute plays and six are chosen to be produced.
"It is so gratifying to nurture both writers and performers. That's really another thing that separates The Barn from other community theaters," Vida said. 
"Community theater is also a training ground for audiences," Vida explains. "When people watch the performances, they get hooked and seek other outlets for the arts. It encourages audiences to have a lifelong commitment to the performing arts." 
"The Barn wants to be the home base for local actors. We want them to feel comfortable honing their craft and gaining experience. We cater to ages 8-88. It is truly a reflection of community," Vida said.
Vida's passion for the arts shows in her volunteer work and in her birthday party fundraiser on March 12. Her brother Eric has played at The Barn once before, but this time it's for two good causes: The Barn Players Community Theater and his sister's birthday. And the audience is in for a real treat. 
Eric currently resides in Nashville where he plays in a couple of bands and teaches music theory and music arranging online for the Academy of Art University in San Francisco. Before that, Eric lived and worked in Los Angeles for 30 years where he composed music for television shows like "Boston Public," "Ally McBeal," "Scrubs" and "Party of Five," among others.
"It was an honor working with so many world-class musicians. And hearing the music I wrote in the background of shows that end up on reruns then eventually in foreign countries is good for the longevity of my work," Eric said.
He is back in Kansas with his former band Sanctuary for their induction into the Kansas Musicians Hall of Fame. And while he's here, he is donating his talents for a show at The Barn where he will play two sets, all original works on the piano.
"I am a composer. I primarily write for other projects, other artists," Eric said. "This is the first time I will perform my own music. It's fun for me. The thing I enjoy most is sitting at the piano, which is where I started. I've come full circle."
Eric has performed live with artists like Dolly Parton, Stevie Wonder and Bette Midler and has produced Grammy-nominated songs for Phil Vassar and Gloria Loring. Eric will be selling his new CD, "Follow Your Heart" at the party and says he is getting radio play and good response from it. You can learn more at ericbikales.com. 
The party starts at 7 p.m. and music will begin at 7:30 p.m. Tickets for the event are $10 and can be ordered on The Barn Players' website or at the door.
"It will be a nice evening of cake, wine and music. You don't even have to bring a present!" Vida said. 
The event is open to the public and all proceeds will go to The Barn Players Theater. The theater is located at 6219 Martway Street in Mission. For more information call 913-432-9100 or visit thebarnplayers.org.