JFS' Aronoff to thoroughly explore Judaism and use that to help people
Published: Wednesday, 05 March 2014 09:32
Written by Marcia Montgomery, Community Editor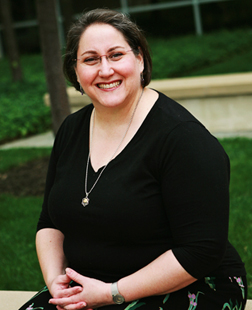 By Barbara Bayer, Editor
It takes a lot of courage — some would even say chutzpah — to quit a job and go off to rabbinical school at age 49. Yet that's exactly what Celeste Aronoff is doing.
Aronoff, whose last day as director of communications and administration for Jewish Family Services is March 14, has sold her house and is tying up her life here so that she can begin classes soon at the Academy for Jewish Religion in Los Angeles. AJRCA is a trans-denominational, pluralist institution dedicated to the training of rabbis, cantors and chaplains. Its mission is to develop religious leaders steeped in Torah wisdom and tradition, and capable of transforming Jewish communities into places where all Jews can grow toward wholeness and well-being. Rabbi Doug Alpert was ordained by the New York City branch of AJR in May 2012.
"The Academy for Jewish Religion is very much designed for people who are already established in their careers and their families, so the average age of the student population is between the ages of 35 and 65," explained Aronoff in an interview last week. "That's part of what makes that an appropriate seminary for me."
In some universities across the country, students of Aronoff's age are considered non-traditional. Aronoff isn't fond of labels — for instance she considers herself a Jew, not a Reform, Conservative or Orthodox Jew — so calling her non-traditional could aptly describe this choice as well as the way she has lived her life up until now. She said much to her mother's discomfort, she has never approached her life in a traditional way.
Since Aronoff doesn't want to be pigeonholed into one type of Jewish religion, her options for rabbinical school were clear. Besides liking the weather in Los Angeles, she chose the California branch of AJR because she wants to be "in a place where there are a lot of opportunities to explore the possibilities in what contemporary Jewish life can be."
"I think I was looking for a place where there are others who want to create something new and that is useful for other people," she said.
Aronoff believes Judaism is an incredible ancient wisdom tradition and she wants to explore that as fully as she can at AJR, without the parameters or limitations of denominational philosophy and theology.
"I don't want denomination defining how I explore and understand and access everything Judaism has to offer. So an opportunity to go to a school where I'm taught by people who are Orthodox and are observant or really liberal in their understanding of Judaism … people coming from all different perspectives … is really, really important to me."
As a student and a teacher of Raja yoga (meditation generally based on directing one's life force to bring the mind and emotions so into balance that the attention may be easily focused on the object of meditation), Aronoff, a graduate of Boston University and Shawnee Mission East High school, said she is as interested in exploring the mystical as she is the liturgical.
"I really want to get a firm footing in a real cross section of ways into Judaism. And I don't think I'm so unique in that. I think we learn a particular way or we are familiar with a particular way. I just think Judaism is so rich, there's been a thousand differences in Jewish practice and observances throughout that time and all of them fall apart and are reconstructed in different ways. I just don't want those differences to be the limitations I go to school with."
The Road to Rabbinical School
While just recently deciding to explore the rabbinate, Aronoff began "a really intentional spiritual practice" during her sophomore year in college. She said it has guided the trajectory of everything in her life since.
"This seems like the next natural step," she said.
Although she has been spiritual all her life, it wasn't until recently that she really began understanding that she could be spiritual and Jewish. In fact before she moved back to the metro area after being away for 25 years, she ran — and lived at — a meditation center in downtown Chicago.
"It just became more and more clear to me that the place I felt most at home was in the Jewish community. So I started thinking about that seriously in 2005 and I moved back to Kansas in 2007. I started working in the Jewish community and exploring Judaism. I took the full Melton class, I was in the Helzberg Leadership program and I've been exploring this more and more deeply, doing tons of reading, talking to people, getting advice …," she said.
One of the people she sought counsel from is Rabbi Jonathan Rudnick, a childhood friend who happens to also be the Jewish Community Chaplain.
"He is this incredibly glorious, spiritual, Jewishly engaged person," she said about Rabbi Rudnick.
After discussing her spiritual inclination and how she wanted to be of service with Rabbi Rudnick, she said he told her he thought rabbinical school was the place for her.
Aronoff said she was unsure, because she knew becoming a congregational leader was not what she had in mind.
"What I want is the community and the connection and the education and that's what he wanted, and got, from rabbinical school," said Aronoff about her conversation with Rabbi Rudnick that took place about two years ago. "It really got me thinking."
So she conducted research and spoke with others, including Rabbi Alpert, who was about her age when he went to rabbinical school, and Rabbi Alexandria Shuval-Weiner.
"Those three people in particular helped me formulate what moving forward, in terms of pursing a rabbinical education might look like, and I got really serious about this just a little less than a year ago," Aronoff said.
Rabbinical School and Beyond
Aronoff is entering a five-year program and will be in classes only three days a week. So there's a good possibility that she'll work, at least a little, while in school, and hopes to look for a job once she gets settled in LA. 
"I'd love to continue working in the Jewish community," she said.
She wants to continue her work in spiritual education with her rabbinical degree, and she's excited to travel down the path to what that will mean.
"Honestly I don't know what the five- or the 10-year plan is. As far as I'm concerned this is a 'calling' and God has a hand in all of this and I think my job is to listen to that call and move forward according to it. And everything that needs to fall into place will. I would be a lot more concerned about that being a good plan, except that's how all of my life has unfolded and it's worked pretty well so far. I've just learned to trust that," she said while sitting among boxes ready to be moved out of her JFS office.
"I am so excited to help people understand that they don't have to leave Judaism to have a rich and relevant spiritual life and practice," she continued. 
"I think my own experience really speaks to that because that's exactly what I did, which is exactly why I want to help people understand that it exists within this context. The answers I didn't necessarily get myself are available. Maybe they aren't always so obvious but they are available and they are available Jewishly," she said.
She admits that separating herself from family and community to find connection with God and to find a way into spiritual experience was a very artificial way of doing things.
"I don't think that's a necessity. I think of Judaism essentially as a spiritual tradition. What made Abraham who he was? What made Moses who he was? It was that they had a unique relationship with God. That relationship with God then formed how they related to the rest of humanity. It changed them fundamentally and I think that's one of the things Judaism gives us is that way into a relationship that is potentially transformative and powerful and at their best, tradition and community are the vessels that give us a structure that allows us a way in, not keep us from finding a way in."
She said what really interests her about Judaism is the conversation about God.
"To me the foundation of Judaism from the very beginning is that there is God and there is humanity and there is an opportunity for a special relationship between God and us," Aronoff said.
She believes Judaism talks about what the nature of that relationship is and can be, but that conversation isn't always front and center in our religious lives. However, she believes it is the heart of spiritual experience.
"So many Jews think of spiritual experience as separate from their Jewish religious lives. … They try all different kinds of things because they are not finding that spiritual heart within the context of their religion. It exists within Judaism, it's just not so easy to access these days. I don't know if that's a contemporary American Jewish thing, but that's the place that really interests me and that's how I want to continue working with people," Aronoff said.
No matter what, Aronoff wants to continue serving people.
"If I can translate what I've learned in a way that's useful for somebody else so that they don't necessarily have to spend so much time searching, but just see some of the beauty and the richness in the world they are already living in, I would love to do that."