Looking for a 'Mordechai moment'
Published: Wednesday, 05 March 2014 09:21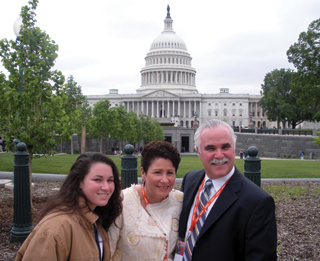 By Carol Katzman
Special to The Chronicle
It's no coincidence that Purim Gala honors those who epitomize a devotion to the Jewish community and Israel, as shown by Mordechai in the Scroll of Esther — which says that he "...sought the good of his people and was concerned for the welfare of all …" After all, it was Mordechai and Esther who thwarted the threat to the very existence of the Jews in ancient Persia.
Today, those threats are in the form of Iran's nuclear ambitions and its eerily similar pronouncements to wipe Israel off the map. Add that to the instability surrounding Israel — civil war in Syria, 500,000-plus Syrian refugees undermining Jordan, missiles from Hamas in Gaza and Hezbollah in Lebanon, and the continuing clash between Egypt's army and Muslim Brotherhood.
So who better to highlight the importance of support for the state of Israel than Bonnie and Matthew Siegel at the Sunday, March 9, Purim Gala. It's that "Mordechai moment" that drives them.
Since arriving here in 1986, the Siegels have immersed themselves in Jewish life. Though Matthew has been an AIPAC supporter since the 1990s, their role became focused in 2008 when their daughter left for college. They reached out to friend and KC AIPAC founder Larry Nussbaum for information about AIPAC on college campuses.
"Not only do our kids need information to defend Israel against delegitimization," Bonnie explained, "but adults need that as well. AIPAC is one of the only organizations focused on Americans understanding that an anti-Israel campaign is also anti-Jewish." 
Bonnie chaired the first several AIPAC Israel Forums, which have become annual events drawing close to 500 each year. The forum's goal is to educate members of the community — Jews and non-Jews, Democrats, Republicans and Independents — about the value of Israel as America's staunchest ally and to strengthen that relationship by lobbying members of Congress during AIPAC's annual Policy Conference.
"The Siegels and AIPAC ask you to support Israel, realizing these are perilous times for the only democracy in the Middle East," said longtime advocate Kathi Rosenberg, who serves on the AIPAC National Council with Bonnie. "Now, more than ever, Israel needs our understanding, our help and our support."
Rosenberg added, "Regardless of where your politics lie or which organizations you support, we know that the more we educate people about Israel, its democratic institutions and its valuable contributions to the world, the more secure Israel will be."
"When the Siegels joined the KC Chapter of AIPAC, I thought we were doing well, especially for a community this size, and that we had reached out to everyone who could help," said Jeff Horen, another longtime activist. "But Bonnie and Matt saw more potential. They underscored advantages we had, such as an unusually large proximity to very friendly members of Congress. They dramatized how much more we could do to help Israel at this critical time."
Rob and Miriam Glueck have been AIPAC activists for more than a decade. "About five years ago, the Siegels invited us to dinner and wanted to know why we commit to AIPAC," Miriam explained. "While many organizations contribute significantly to the Jewish people, when it comes to Israel's safety and security, we believe no organization is more vital and more effective than AIPAC. And the Siegel's passionate and effective leadership has dramatically contributed to AIPAC's growth here."
Brad Fahlgren, AIPAC Midwest area director, added, "K.C. is one of AIPAC's strongest cities, pound for pound." Not only does this community consistently send 80-plus people to the annual AIPAC Policy Conference (starting Sunday in Washington, D.C.) but it also has set the bar in fundraising for the bi-partisan, pro-Israel organization in similar size cities.
Horen added, "A lot of this has happened because Bonnie and Matt think big. They are willing to reach out to anyone. They relentlessly push for more, and make me feel truly valued and appreciated. As a result, Kansas City's Jewish community is helping to protect the modern state of Israel. I cannot think of a better way to change history!" 
And to recognize the Siegels for their Mordechai moment.
Tickets and tribute opportunities are still available for the annual fundraising event, sponsored by Congregation Beth Israel Abraham & Voliner, the only modern Orthodox synagogue in Greater Kansas City. Purim Gala begins at 5 p.m. with a silent auction and cocktails at 28 Event Space, 1300 W. 28 St., followed by dinner and entertainment. For information, contact Barry Rubin at BIAV: 913-341-2444 or This email address is being protected from spambots. You need JavaScript enabled to view it..