Jewish Federation top exec announces retirement plans
Published: Thursday, 20 February 2014 10:30
Written by Marcia Montgomery, Community Editor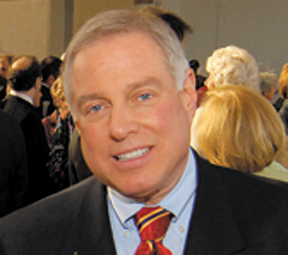 Last week Todd Stettner, president and CEO of the Jewish Federation, announced plans to retire, effective Sept. 15, 2015. Members of the agency's board of directors were informed of this decision Thursday, Feb. 13, while others in the Jewish community learned the news via email the following morning. A search committee will be convened this fall to engage Stettner's successor.
Patricia Werthan Uhlmann, chair of the Jewish Federation's board of directors, said Kansas City has been extraordinarily fortunate to have someone of Stettner's caliber in charge of the agency.
"He works tirelessly to educate our community on national and international issues that impact the Jewish world," Uhlmann said.
Uhlmann said Stettner is well respected within the Jewish Federations of North America national system, both for his work locally and abroad. During Stettner's stewardship of the Jewish Federation, he has been responsible for creating partnerships with communities in Romania and Bulgaria and strengthening our ties with our Israeli partners.
"He has opened the eyes of many in our community to the importance of these relationships," Uhlmann said, noting that his vision of connection to Jewish people all over the world through these partnerships has greatly enriched this community.
Over the years, Uhlmann said Stettner has elevated the local Jewish Federation's image within the national and international system with innovative projects. Jerry Silverman, Jewish Federations of North America CEO, has similar praise for Stettner.
"Jewish Federations of North America honor Todd Stettner for his commitment, passion and leadership of the Kansas City community. Todd's years as chief executive of the Jewish Federation has lifted the community. Todd's leadership goes well beyond Kansas City as he has been a strong supporter of the Jewish Global agenda in Israel and around the world," Silverman said.
One of the Jewish Federation's main purposes is to raise money so it can support its mission of sustaining and enhancing Jewish life at home and around the world. Uhlmann said Stettner has done a magnificent job leading the community's fundraising efforts.
"Todd understands what giving tzedakah does for the soul as well as for the community. He's very inspirational in bringing others to the joy of giving tzedakah," she said.
Stettner has worked in social service for 35 years, coming to Kansas City in August of 1999 and succeeding A. Robert Gast as the Jewish Federation's top exec. He will celebrate his 15th anniversary with the agency a few weeks before his departure.
Stettner made the decision to announce his plans now after discussing it with Uhlmann and other members of the Jewish Federation's board of directors.
"This gives them time to conduct a proper search. When you are looking to fill a position like this you don't know how long it will take to find the right person," Stettner said.
Knowing he will be stepping down in a year and half gives Stettner and the Jewish Federation a chance to wrap up some initiatives Stettner has been leading.
"For a while now we've been working on a new engagement and leadership program, which is currently launching. We also have some additional engagement activities that we're reviewing and preparing to launch," he said.
Stettner said a change of leadership in the Financial Resource Development department presented a "perfect time to work on a new three-year strategic plan" regarding Federation's fundraising. Derek Gale recently took over for Gail Weinberg, who retired as head of that department at the end of last year.
"We hope to have the plan done shortly and begin to implement it," Stettner said.
Several other staffers have also left the Jewish Federation recently, but Weinberg's is the only position that has been filled. Stettner said the agency is taking time to regroup and determine what it wants the staffing structure to look like as it moves forward.
"All of these things will begin to take shape in the next year. We want this all to be done and in place before I leave," he said.
Stettner will be 66 when he leaves the Jewish Federation, but he's not sure he's "retiring from the world of work." He's considering a variety of options.
"We like Kansas City, it's our home now. If we move it's going to be because we're moving somewhere to retire, not because I'm looking to take a job at another Federation."
Stettner said he would consider filling in as an interim exec in the Federation system. He's also looking at consulting opportunities and teaching.
"I'm exploring all my options to see what the next phase of my life will be. I do want to continue putting my skills to good use," he said.
Stettner's departure will come at the end of Uhlmann's term as board chair.
"We have a lot left to do together," Uhlmann said. "We look forward to continuing to work together on behalf of this great community!"