JCC scholar in residence to share her vision of Talmud
Published: Thursday, 20 February 2014 10:30
Written by Marcia Montgomery, Community Editor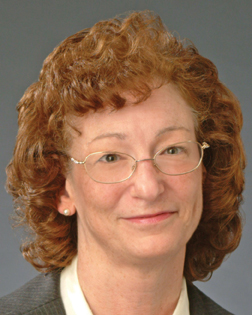 Rabbi Judith Abrams knows what most people envision when they think of Talmud and those who teach it.
"Clearly, I don't fit the image — I am just not a little guy with a beard," Rabbi Abrams said from her home in Houston, where she also runs Maqom, a nonprofit dedicated to "the spiritually enlightening and intellectually honest study of Jewish texts" via the internet, teaches through distance learning, and leads seminars across the country. "This is my mission in life — to teach Talmud."
It is a mission that will bring Rabbi Abrams to Kansas City, where she will lead a series of public presentations and study sessions as scholar in residence March 4-6 (see below for schedule). Thanks to funding from the Jewish Heritage Foundation, Jewish Federation of Greater Kansas City, Women's Philanthropy and a private contributor, all events are free and open to the community.
"I'm optimistic that Kansas City will really benefit from her being here — everyone, even our rabbis," said Bill Lowenstein, who first recommended Rabbi Abrams to Jill Maidhof, the JCC's director of Jewish Life and Learning.
Maidhof concurs. "Judy was just as Bill described her: warm, accessible, and very, very knowledgeable. I'm really looking forward to seeing her effect on our community."
Ordained at Cincinnati's Hebrew Union College in 1985, Rabbi Abrams served congregations in Texas and Virginia before earning her Ph.D. in Talmud and realizing that teaching was what she wanted to do full time. She established Maqom in 1995, and began leading Talmud study online, via phone and Skype, as well as with "actual living people in Houston and wherever they ask me to go," she said. "Because that's my bliss."
Her bliss has taken her from Boise, Idaho, to Jerusalem, and nearly everywhere in between. She has also published more than 20 books, on everything from Talmud to Kabbalah, the holidays and Jewish perspectives on parenting, illness and disability.
Rabbi Abrams said she's thrilled to come to Kansas City and share her vision of what Talmud can be: FUN.
"Put the 'fun' underlined, in capital letters, with nine exclamation points after it," she said, laughing — as she often does when teaching texts. "The problem is that when people hear the word Talmud, what's the visual that comes up in your head? It just doesn't look like fun at all. I mean, they're arguing with each other, and you jump into a page of this stuff, and it's like, 'okay, so we're sacrificing one black and one white dove' — for most people, that's not going to work.
"What I love to do is take people to the nicest, easiest neighborhoods in the Talmud and introduce them and get them to successfully understand the text in pretty much no time at all."
The rabbi assures her new students that they need not worry about their background or level of Hebrew. "Everybody is going to be able to get this stuff," she said. "People are sometimes put off by the idea of what Talmud study is, and they think, 'well, it couldn't possibly be for me.' It's for them."
Jewish text study isn't just inclusive, Rabbi Abrams emphasizes, but comprehensive.
"You don't have to go be Buddhist to find meditation or Hindu to explore reincarnation," she said. "I promise, I can find those spiritual journeys in the Talmud."
"Her teaching style makes [the Talmud] come alive," said Kansas City native Glenn Lowenstein, son of Bill Lowenstein and Sharon Shoham, who now lives in Houston and studies with Rabbi Abrams. "It is simply fascinating to learn the power and relevance of Judaism through her perspective and enthusiasm. Warning: fasten your seatbelts!"
For Rabbi Abrams, that passion is personal.
"My children joke that the guys in the Talmud are my BFFs — that's 'best friends forever' among scholars of adolescent lingo. To me, they're living people."
Another of Rabbi Abrams' "living people" lives in Kansas City. Cantor Sharon Kohn was thrilled to hear of Rabbi Abrams' upcoming visit.
"We've been dear, dear friends for a very long time. Judy is simply one of the most knowledgeable people I know. She has a special gift for making complex subjects understandable, and she's fun," the cantor said.
There's that word again.
"I almost feel like a matchmaker" Rabbi Abrams said. "I come to a city and meet all these wonderful people, and then I say, 'Hey, let me introduce you to a whole other set of wonderful people.' It's like facilitating a really great party."
JCC scholar in residence
All presentations take place at the Jewish Community Campus and are followed by exhibition and sale of Rabbi Judith Abrams' books. Reservations are requested by Friday, Feb. 28; contact Lauren at 913-327-8007 or

This email address is being protected from spambots. You need JavaScript enabled to view it.

unless otherwise noted.
Tuesday, March 4
• Jewish American Princess: The Image, the Jokes and the TRUTH about Jewish Women! 7 p.m.
Presented by the JCC and Women's Philanthropy. An evening of fun as Rabbi Abrams provides a lighthearted but historically accurate account of the fairer sex in Judaism, debunking the JAP stereotype with surprising and highly entertaining stories of our amazing foremothers. Includes a decadent dessert reception. For this event only: RSVP to jewishkansascity.org or Bev Jacobson, 913-327-8108.
Wednesday, March 5
• Advanced Adult Study, 8-9:30 a.m.
A Critical Comparison of the Yerushalmi and Bavli Talmud
(Advanced Adult Study sessions assume a working understanding of Talmud.)
• Hurting and Healing (daytime option), noon
Explore how prayer works, what pain means, and from whence strength comes.
• New — I Promise! Insights for Your Passover Seder, 1:30-2:30 p.m.
• The Most Essential Things You Need to do as a Jew (It's less than 613), 5:30-6:30 p.m.
• I Can Get it for You Wholesale! 7 p.m.
Everything You're Seeking in Other Religions — Angels, Demons, Karma, Afterlife and Superheroes — I Can Find for You in Judaism
Thursday, March 6
• Advanced Adult Study, 8-9:30 a.m.
Normative Judaism — The Yerushalmi's Surprising Insights into a Mistaken Notion
• Meditation, a Genuine Jewish Form of Prayer and Enhancement of Life, noon
Encounter some texts that prove this point and practice meditation during the program.
• Hurting and Healing (evening option), 7 p.m.
Explore how prayer works, what pain means, and from whence strength comes.