Listening Post
Published: Thursday, 20 February 2014 10:30
Written by Marcia Montgomery, Community Editor
SEE ZACH CHAYKIN — Zach Chaykin , the son of Congregation Beth Torah members Arthur Chaykin and Paulette Giantarra, is starring in Oscar Wilde's "The Importance of Being Earnest, a Trivial Comedy for Serious People," at the Just Off Broadway Theater.
Bob Evans of the Independence Examiner raved about Chaykin in his reviewe of the play published last week,  "When watching, be aware of Zach Chaykin as Gwendolen Faifax. Chaykin can steal any scene. He's absolutely outrageous as Miss Fairfax with his gestures, mannerisms, costumes, high heels and short skirts. The audience can't help but laugh at his performance."
The play opened last week and continues through Feb. 22. The evening performances begin at 7:30 p.m. and Sunday's matinee is at 2:30 p.m. Tickets can be purchased at boxofficetickets.com or by calling 800-494-8497. Just Off Broadway Theater is located at 3051 Central in Kansas City, Mo.
According to Wikipedia, "The Importance of Being Earnest," was first performed on Feb. 14, 1895, at the St. James's Theatre in London. It is a farcical comedy in which the protagonists maintain fictitious personae in order to escape burdensome social obligations. Working within the social conventions of late Victorian London, the play's major themes are the triviality with which it treats institutions as serious as marriage, and the resulting satire of Victorian ways. Contemporary reviews all praised the play's humor, though some were cautious about its explicit lack of social messages, while others foresaw the modern consensus that it was the culmination of Wilde's artistic career so far. Its high farce and witty dialogue have helped make "The Importance of Being Earnest" Wilde's most enduringly popular play.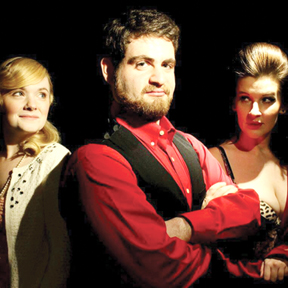 SEE ALEX BIGUS — You can see Alex Bigus at the same theater, beginning next week, in the title/lead role in the musical "Jekyll & Hyde" with She and Her Productions. The show will be at the Just Off Broadway Theatre Feb. 28, March 1, 7, 8, 10, 14, 15 at 8 p.m.; March 16 at 2 p.m. Tickets can be purchased at http://www.brownpapertickets.com/
ref/81046/event/531522.
The next month Bigus will make his professional directorial debut directing "Watch on the Rhine" for Leawood Stage Company, April 4-6. A moving play by Lillian Hellman, "Watch on the Rhine" is about an idealistic German who, with his American wife and two children, flees Hitler's Germany in 1940 to find sanctuary with his wife's family in the United States. He hopes for a respite from the dangerous work he has involved himself with, but his desire for personal safety soon comes into conflict with the deeply held beliefs that have made him an active anti-Nazi. It will be presented in the Oak Room at Leawood City Hall. Tickets will be sold at the door. For more information contact April Bishop at 913-339-6700, ext. 157.