Listening Post
Published: Thursday, 13 February 2014 12:00
Written by Marcia Montgomery, Community Editor
DID YOU KNOW — Congregation Ohev Sholom's weekly email to members included this little piece of info from Rabbi Scott White:
The non-Jewish occasion of Valentine's Day falls this Friday (tomorrow, Feb. 14). Did you know that our ancestors celebrated a Jewish "Valentine's Day?" When the Holy Temple stood, the 15th of Av marked the end of wood chopping season, when the young men would bathe and don fresh clothes and the maidens would dress in white and love was in the air. Tu b'Av comes and goes nowadays with one lone impact: the day's Tahanun prayer is omitted. Incidentally, such is also the case this Friday, Little Purim — the 15th of First Adar. Whenever we have a leap year, Purim is observed in Second Adar.
BEST SUPPORTING ACTRESS —Last week we told you that Samantha Agron is appearing in "Company," the show currently being presented by the White Theatre. Since that article published we learned that Agron was named Best Supporting Actress for the 2013 season by the Barn Players for her performance in "Chess." The Barn Players open its 2014 season Feb. 28 with "Bloody, Bloody Andrew Jackson." We hear our dear friend, colleague and publicist Ruth Bigus will be appearing in "Follies," a Stephan Sondheim musical that will be produced by the Barn Players April 18 through May 4. She will play Vanessa, one of the Follies girls.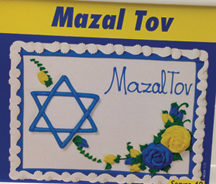 COSTCO MITZVAH CAKE — Costco shoppers will soon notice that Costco now has a cake design suitable for Jewish mitzvahs. It was designed by former Kansas Citian BelleAnne Curry. She moved to Saint Louis six years ago and began working for Costco about four years ago in the bakery as a cake decorator. Last year a member came in and ordered a Bat Mitzvah cake. Costco didn't have a design for that, so Curry made one herself. She snapped a photo of it, showed her boss and then proceeded to send it up the ladder for the design to be approved as a permanent design available at any Costco. It was finally approved and now any member in any Costco in the United States can purchase a Mazal Tov cake. Curry wants everyone to note that while Costco has some kosher bakeries, there are none in Kansas or Missouri. "The other thing to note is that 90 percent or higher of the items that we get in the bakery do have a hechsher. Most are kosher dairy; the breads come in frozen and are pareve."
FUN FACT — I found this interesting, courtesy of the Consulate General of Israel to the Midwest: Israel Exports more than 60 million flowers every year to Europe for Valentine's Day.
FUNNY OF THE WEEK — Here's an oldie but goodie from a colleague of mine:
Ben & Jerry's Ice Cream is now available in Israel in the following flavors : Wailing Wallnut, Moishemellow, Mazel Toffee, Chazalnut, Oy Ge-malt, Mi Ka-mocha, Bernard Malamint, Berry Pr'i Hagafen, Choc-Eilat Chip.