Three very different tales about our Russian Jewish ancestors
Published: Thursday, 06 February 2014 12:00
Written by Marcia Montgomery, Community Editor
"The Zelmenyaners" by Moyshe Kulbak translated by Hillel Halkin. Yale Univ. Press, 2013 $25
"My Russian Grandmother and Her American Vacuum Cleaner" by Meir Shalev translated by Evan Fallenberg. Schocken, 2011 $25.95
"Daniel Stein, Interpreter" by Ludmilla Ulitskaya translated by Arch Tait. Overlook, 2011 $27.95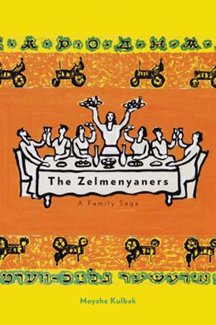 "The Zelmenyaners" is the most recent entry in the Yale New Yiddish Library series. This satiric comic novel was published serially from 1929 to 1935 in Shtern, a Russian-Yiddish monthly journal. It was the work of Moyshe Kulbak, an author whom many saw as the heir to Sholom Aleichem.
Kulbak was portraying the new Soviet man reflected in the life of the Jewish Zelmenyaner clan of Minsk. Living around a courtyard established by the patriarch Reb Zelmele, his four sons are craftsmen — a watchmaker, a tailor, a tanner and a cabinetmaker. Like so many Jews in the 20th century, their lives have edged away from religious practice. The Zelmenyaner grandchildren are something else again — non-religious, members of the Communist party, bureaucrats, police officers, factory workers.
The reader sees how electricity is introduced to the courtyard and the wonderful advent of radio. All of these innovations are described in an understated comic manner as the life of the Zelmenyaners is turned upside down.
The author's personal life did not end on a happy note. Kulbak was a victim of Stalin's first great purge, which also claimed the lives of Jewish authors Isaac Babel and Osip Mandelstam. His novel, however, has been rehabilitated by its English translation. Other Russian Jews did not remain in Russia. Many were ardent Zionists and made Aliyah to Palestine.
"My Russian Grandmother and her American Vacuum Cleaner" is Meir Shalev's memoir of his family's early years at Moshav Nahalal. He lovingly describes his grandmother Tonia, a strong-willed, difficult woman whose obsession was with dirt — or rather the prevention of it entering her home. Doorknobs in Tonia's home were covered with clothes so that people using them would not leave fingerprints. The bathrooms were never used. Everyone showered and used an outhouse in the yard.
The advent of an American vacuum cleaner, the gift of a brother-in-law who became rich in the U.S., became the stuff of family lore. Shalev's charming and very funny recollections of his family's early years in what would become Israel draws a totally different portrait of a Russian Jewish family in the first half of the 20th century than that of Kulbak. Having survived his Grandmother Tonia, Shalev went on to become one of Israel's foremost novelists.
Finally, "Daniel Stein, Interpreter," Ludmilla Ulitskaya's semi-fictional exploration of Father Daniel Stein is based on the life of Oswald Rufeisen. Like his fictional counterpart Rufeisen used his linguistic abilities to become an interpreter for the Nazis and assist in the escape of 300 Jewish prisoners. Later he was briefly involved in the resistance, but found sanctuary in a monastery, converted to Catholicism and eventually made his way to Israel.
This book is comprised of letters, conversations, interviews, sermons and newspaper articles. When they are all put together, the life of a good man emerges. The reader may not agree with Father Daniel's choices, but one cannot help admiring him. Again, this book provides a narrative about a different path to survival in the 20th century.
In all, these three titles examine the difficulty of life for Jews in the first half of the previous century. The choices made by these protagonists are dissimilar, but readers can learn from them.
Andrea Kempf is a retired librarian who speaks throughout the community on various topics related to books and reading.