Dance party revists yesteryear; supports charities
Published: Thursday, 06 February 2014 12:00
Written by Marcia Montgomery, Community Editor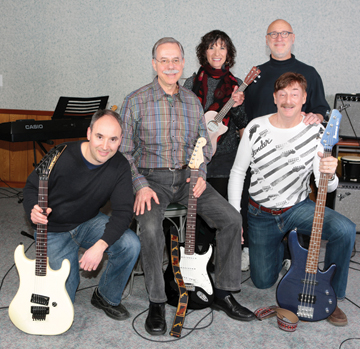 Remember when you danced the night away at Yom Kippur Dance, Matzo Ball, and a variety of beau and sweetheart dances? Put on your dancing shoes, relive those wonderful evenings and "Boogie oogie oogie till you just can't boogie no more" at the Rock the Winter Dance Party to benefit Jewish Family Services and Sasone, a program for Jewish children with special needs, on Sunday, Feb. 16, at the Uptown Theater.
Rock the Winter Dance Party features three local bands who are comprised of or led by members of the Jewish community — Cheap Dates, Conviction and Guns N Charoses. Masters of Ceremonies Mike Diamond and Steve Passer will entertain between sets. Former Matzo Ball and Yom Kippur queens and candidates of years' past, as well as former AZA sweethearts and candidates, will be honored throughout the evening.
The event, organized by Mark Edelman, Theater League founder and executive director, is expected to appeal to people who were teens in the '60s, '70s and '80s as well as their adult children or anyone that loves music, dancing or helping out the Jewish community. He said he came up with the idea after running into Cheap Date's Jimmy Rosenbloom at a Bare Naked Ladies concert at the Uptown.
"I was sitting with the guy who owns the place — Larry Sells," Edelman said. "When I introduced him to Jimmy, I jokingly said 'Jimmy's got a band, you should book him into the Uptown, Larry.' To which Larry replied, 'Hey, if you guys want to play here, just pick a date.' "
Edelman said he and Rosenbloom were both intrigued by the idea of playing on the same stage as some of the biggest names in rock 'n' roll.
"For Jimmy and Vic and I, it's a chance to play on a big stage with the equipment that we've seen some of our favorites use. That's kind of neat," Edelman said.
Rosenbloom is excited to play where many of the icons of rock music have played.
"We have played at the Voodoo Lounge at Harrah's Casino, which, like the Uptown, is one of the coolest places to play our music. We play rock 'n' roll, so the bigger the space, the better," Rosenbloom said. Cheap Dates is comprised of Max Berry, guitar and vocals; Dee Pack, guitar and vocals; Toni Dodd, vocals; Steve Cole, bass, Chip Lewis, drums and vocals; and Rosenbloom, keyboard, harmonica and vocals.
As Conviction's Vic Bergman, a lawyer by day, puts it, "Just the idea of being on a professional stage with the sound system and lighting is an experience that most amateur musicians never get, let alone for the third performance ever. We are very blessed for this chance, and I am going to savor it."
All members of Conviction are Jewish. In addition to Bergman, who sings lead vocals and plays rhythm guitar, members include Steve Rosenberg, M.D., on lead guitar and vocals; Steve Greenberg, bass guitar and harmonica; Reva Friedman, Ph.D., vocals, keyboard and ukulele; and Larry Bell on drums.
Rosenbloom said he is most excited by the fact that this event will benefit two incredible organizations.
"My wife, known famously as 'Miss Sunni' because she has been teaching preschool at Beth Shalom for 20 years, has worked with Sasone for many years," he added.
Each band will play about 30 to 40 minutes. Guns N Charoses — featuring Alan Edelman, drums; Jack Cohn, lead guitar; Richard Green, rhythm guitar; and Mark Edelman, bass — will kick off the event. Conviction will play the middle set and Cheap Dates will be the closing band.
It's not unusual for the Uptown to hold benefits, and Edelman said since many of the band members attend the Sasone benefit every year, they thought it would be a good cause to help.
"And when I heard about the JFS Food Pantry, we wanted to include them as well," Edelman said.
Besides the appeal of playing at the Uptown, Edelman said putting a dance together sounded like fun because "several of us were BBYO people and went to dances when we were kids and we thought that was fun."
"It's the idea of getting together, dancing and having some libations … Everybody's grown up so let's dance again like we did last summer," Edelman said.
Ironically, most of Edelman's teen experiences occurred in USY, not in BBYO.
"We had dances but we always went to the AZA and BBG dances and we certainly went to the Yom Kippur Dance and Matzo Ball. Matzo Ball was always (and still is) put on by Nordaunian AZA," he said.
Edelman thought it would be fun to honor the queens of their hearts at the event as well. His wife, Karin Lichterman, was sweetheart of Hatikvah AZA, and while Edelman didn't meet her at the dance, he's sure he admired her from afar.
"It's to honor our wives and the pretty girls that we knew growing up," he said.
Past queens and sweethearts simply need to show up to be honored.
"I'm hoping to get to U.S. Toy to find some 'real diamond tiaras' so that we can properly honor the still beautiful young ladies who may only have been candidates back then but they are our queens now," Edelman said.
There will also be special tribute dances to these queens, candidates and sweethearts during every set.
"It will be fun looking back on our years as teens. A lot of the music will be dance music from the '60s and '70s," Edelman said.
Unlike those dances years ago, participants won't be expected to show up in formal attire.
"Although there's no reason that someone couldn't show up in a ball gown. Wear whatever turns you on," Edelman said.
It's important to note that this is not a sanctioned BBYO event and is in fact not for teens at all. Organizers are hoping about 300 will attend, and report that more than half the tickets have already been sold.
"If we sell all the tickets, we'll make about $7,000. The theater is being donated but after expenses for the sound people and security guards … our goal is to give checks of $3,000 to each group. It's not a big fundraiser but it's something and it's an opportunity for both Sasone and the JFS Food Pantry to talk about the good works they do. But there won't be much talk, it's almost exclusively a dance," Edelman said.
He said Rock the Winter Dance Party will be a perfect place to come in from the cold winter.
"We're all rock 'n' rollers who love the opportunity to play the songs we love for the women we love and all our buddies," he said. "We conceived this as something that was cross generational. Our kids dance … this is for everybody. Our kids are in their 20s and early 30s and we thought this was something we could do with our kids and have them come along with their spouses, beaus and belles and dance too."
Rock the Winter  Dance Party
7 to 9:30 p.m.
Uptown Theater, 3700 Broadway St., Kansas City, Mo.
Benefits Jewish Family Services and Sasone
Tickets are $25 plus applicable service charges are available at Ticketmaster.com and by phone at 800-745-3000. For information or to purchase $50 sponsor tickets ($500 for tables of 10), contact Mark Edelman at 913-338-1801.