Listening Post
Published: Thursday, 06 February 2014 12:00
Written by Marcia Montgomery, Community Editor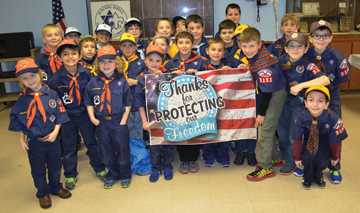 25 YEARS OF SERVING JEWISH BOYS — In September 1988, Jill and Ted Goldstein organized Cub Scout Pack 3153 as the "Kansas City Jewish Community Cub Scout Pack" along with its chartering partner Kehilath Israel Synagogue. Beginning with a handful of first-grade boys, the Pack grew to 21 boys in its first year under the leadership of Jill Goldstein, Cubmaster; Roger Eisenberg, assistant Cubmaster; Natalie Cohen and Suzanne Hankin, Den Leaders; and Ted Goldstein, Pack Committee Chair.
Since that time 448 individuals have been directly involved with Pack 3153, including 322 youth and 126 registered adult volunteer leaders. Currently about 35 boys are active in the Pack, which consistently earns the gold level recognition in Scouting's Journey to Excellence (Quality Unit) program. The Pack offers the full Cub Scouting program while maintaining a Jewish flair — such as its annual Sukkah Camp-in Overnight event. The Pack is Shabbat and holiday observant, and is strictly kosher at all meetings and events including camp programs, which are subsidized by the K.I. Men's Club.
Leadership of the Pack consists of fully Scout-experienced adult volunteers who have been trained in youth protection and leadership Scouting skills. Its current Cubmaster is Elly Goldstein.
Pack 3153 will be celebrating its 25th anniversary in grand fashion, beginning with Scout Shabbat on Feb. 8 in the K.I. Sanctuary, followed by a Kiddush reception sponsored by the K.I. Men's Club and the Pack. The big celebration will conclude with the Blue and Gold Banquet on Sunday, Feb. 16, in the K.I. Social Hall. Pack alumni, members of K.I. and the community are invited to attend both functions.
This year, through the Pack's religious award workshop program, a record 19 boys have completed the requirements for the two Cub Scout Jewish Religious awards, the Maccabee medal and the Aleph medal. These boys will be acknowledged at the Feb. 8 Scout Shabbat service, and will participate in the service along with the rest of the Pack, its leadership, alumni, friends and fellow Scouts.
The Blue and Gold Banquet and program will begin at 4 p.m. on Sunday, Feb. 16, and this year will feature adult and alumni recognition. The White Cloud Indian Dance Team of the Tribe of Mic-O-Say, one of Scouting's honor programs, will perform following the dinner.
Questions and additional information regarding Scout Shabbat should be directed to Ted Goldstein at 913-642-8023 or This email address is being protected from spambots. You need JavaScript enabled to view it.. Questions and reservations for the Blue and Gold Banquet should be directed to Jennifer Conoley, Blue and Gold chairperson at 816-516-8290 or This email address is being protected from spambots. You need JavaScript enabled to view it.. Cub Scout Pack 3153 alumni (youth and adult leaders) are urged to contact Jill Goldstein at 913-642-8023 or This email address is being protected from spambots. You need JavaScript enabled to view it.. Cubmaster Elly Goldstein can be reached at 913-544-2354.
VIOLIN WITH A HISTORY — Joshua Bell will be performing with the Kansas City Symphony March 7-9, when he will be playing Lalo's "Symphonie espagnol." Only a few tickets remain to see the Jewish violinist. Those who are lucky enough to have tickets to one of his performances will likely see him play his 300-year-old Gibson ex Huberman violin. Believed to be one of only five or six instruments made in 1713 by Antonio Stradivari in Cremona, Italy, the violin has belonged to many, including the English violinist George Alfred Gibson. It is its connection to Bronislaw Huberman that drew Bell to this particular instrument. Huberman was a Jewish Polish violinist who lived from 1882-1947.
During Hitler's rise to power, Huberman had the foresight to realize he could save many Jewish artists while fulfilling his desire to start a Palestinian Orchestra. Huberman auditioned musicians from all over Europe. Those selected for the orchestra received contracts and, most importantly, otherwise impossible-to-get exit visas from their homeland to Palestine. Huberman raised the money for the musicians and then their families, even partnering with Albert Einstein to set up an exhaustive U.S. fundraising trip in 1936. By the end of that tour, the money for the orchestra was secured and 60 top-rate players had been chosen from Germany and central Europe. All in all, it was a fantastically successful tour, barring one particular performance at Carnegie Hall on Feb. 28, 1936. That night Huberman chose to play the second half of his concert on his "other violin," a Guarneri del Gesu. Following the performance he was informed that his Stradivarius had been stolen from his dressing room. Huberman never saw it again. Learn more about the violin's history on Bell's website, www.joshuabell.com. For ticket information, visit https://tickets.kcsymphony.org/single/psDetail.aspx?p=5421.
HAIFA SYMPHONY COMING TO KC — We learned late last week from the Israeli Consulate to the Midwest that the Haifa Symphony Orchestra of Israel, featuring standout Israeli pianist Roman Rabinovich, will be at the Kauffman Center for the Performing Arts as part of the Harriman-Jewell Series Saturday, March 1, at 8 p.m. The performance is part of the Orchestra's first U.S tour, which includes 26 cities from coast-to-coast. We hope to have more on that in the future. For ticket information, visit https://tickets.kauffmancenter.org/single/EventDetail.aspx?p=6472 or call 816-415-5025.