Olympic cross country skier has ties to K.C. Jewish community
Published: Thursday, 30 January 2014 11:00
Written by Marcia Montgomery, Community Editor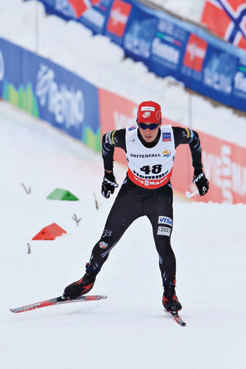 Are you one of those who thinks when you're watching the Olympics on television …. "I wonder if he (or she) is Jewish?" Wonder no more because at least one athlete, cross country skier Noah Hoffman, is Jewish. And for those who play Jewish geography, he also has ties to the Kansas City area.
The 24-year-old skier is the son of Mike and Sharon Hoffman who live in Aspen, Colo. Mike Hoffman grew up in the metro area and is a graduate of Pembroke Country Day School. Mike went to college in Colorado and never moved back to the K.C. area. The skier's grandmother, Hildy (nee Cohen) Flanigan, continues to live in the area as does his aunt, Martha Hoffman. He is the grandson of the late Edward Hoffman.
The 2014 USA Cross Country Olympic Team was officially announced Monday. On his blog (noahhoffman.com), Hoffman, who is currently training with the team in Italy and will be competing in his first Olympics, said he is excited to be a member of this team.
"I am impressed with the incredibly high level across the board of the athletes on the team," said the skier who spends most of his time when he's not competing training in Park City, Utah. He has been a member of the U.S. Ski Team since 2008 and is also a member of Ski and Snowboard Club Vail's Team Homegrown.
Chris Grover, the U.S. head cross country coach, said, "We have a unique opportunity to make history in Sochi. Our team speaks to years of dedication, experience and hard work with veterans setting the stage to turn that work into great results. Additionally our younger athletes are fighting for results and have shown that they have earned their spots on this team. We're ready for the challenge ahead."
Hoffman is expected to compete in the skiathlon on Sunday, Feb. 9, (televised from 4:30 to 8:30 a.m. CST on NBC Sports Network and highlighted on the NBC broadcast from 1 to 6 p.m.); 15 kilometer, Friday, Feb. 14, (televised 4 to 6:30 a.m. on the NBC Sports Network); Sunday, Feb. 16 4 x 10 kilometer relay (televised live from 4 to 6:15 a.m. on NBC Sports Network and highlighted on the 6 to 10 p.m. NBC telecast); and Sunday, Feb. 23, 50 kilometer freestyle, 1 to 5 p.m. on NBC.
In an article published by FasterSkier on May 17, 2013, Hoffman admitted he may not medal this year.
"The Olympics are big in the U.S., and big for any skier's career, but I believe it would be a shock to win an Olympic medal for me this year," he said. "I have other very lofty goals that I hope to achieve, and only one of them, to be honest, has to do with the Olympics. I want to continue improving next year and continue striving towards my goal and continue reaching the top of the sport. One of them is to win an Olympic medal, but I don't think that's going to happen in Russia; more in South Korea [in 2018]."
On his website, Hoffman says his career goals are to win an Olympic Gold Medal, a World Championship, the Tour de Ski, and an FIS World Cup Distance Globe (the best distance World Cup skier for an entire season). He has postponed college in order to focus on skiing.