Listening Post
Published: Thursday, 30 January 2014 11:00
Written by Marcia Montgomery, Community Editor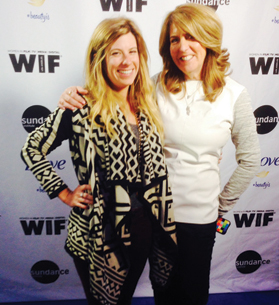 SUNDANCE DOCUMENTARY HAS KC CONNECTIONS — There's been a lot written in the past week about the documentary "Selfie" that debuted at the Sundance Film Festival. "Selfie" was produced by Sharon Liese, a member of The Temple, Congregation B'nai Jehudah, directed by Academy Award-winning documentary filmmaker Cynthia Wade and underwritten by Dove and a grant from the Sundance Institute. The movie "reveals how we have the power to redefine what is beautiful in all of us."
Liese said Wade invited her to enter a competition that was offered to 60 filmmakers. "The challenge was to pitch a 3- to 7-minute documentary film about how women traditionally define beauty and how women of this generation are uniquely poised to redefine beauty because of social media." She said she was attracted to the project because she had produced "High School Confidential," a documentary television that chronicles the lives of a group of high school girls from freshman year to graduation.
"It's pretty safe to say that I love documenting teenage girls through transformative times. This project gave me another opportunity to follow women and create something meaningful and empowering for women," she said.
There are actually two versions of the film. Earlier this week the 7-minute film had almost 500,000 views and the shorter 3-minute version had close to a million hits. Watch it at http://www.youtube.com/watch?v=BFkm1Hg4dTI.
YAD VASHEM CONFERENCE — Monday was International Holocaust Remembrance Day and with that thought in mind we report that the Ninth International Conference on Holocaust Education is planned for July 7-10 in Israel. "Through Our Own Lens: Reflecting on the Holocaust from Generation to Generation" will take place at the International School for Holocaust Studies of Yad Vashem. This conference will bring together Holocaust survivors, scholars, educators and artists from three generations. It will provide a venue for those of the first, second and third generation, both Jewish and non-Jewish, who will engage in an educational, intergenerational and multicultural dialogue on how we will preserve the legacy and grapple with the challenges of Holocaust education in the years to come. Approximately 350 participants from 50 different countries are expected to attend. For more information visit https://secure.yadvashem.org/education/intl_conference/index.asp.
FAVORITE FOODIES — "In the Kitchen with Bonnie," a multi-media foods series, is now available via podcast. Audiences can listen to the show, on-demand, at http://inthekitchenwithbonnie.com/favoritefoodies/ or download at iTunes. "The podcasts enable us to deliver programming 24/7 via the computer and all mobile devices," said Bonnie Rabicoff, producer and host. "We are pleased to provide an additional connection to show content." "In the Kitchen with Bonnie" is a television, web, podcast and print production that takes place each week in the kitchens of Kansas City's many celebrated chefs. The series began in June 2010 and highlights food products, preparation, presentation, beverage pairings and a behind-the-scenes chat with the chef. "In the Kitchen with Bonnie" can be seen on Educational TV, Time Warner's "KC On Demand" (TV Channel 411), inthekitchenwithbonnie.com and Youtube. Audiences can listen to the series at the website and on iTunes. "In the Kitchen" is also featured each month in Eating Well in Kansas City, a magazine devoted to local, organic and seasonal foods.
Searching for Bar/Bat photos
Did your family celebrate a Bar or Bat Mitzvah during 2013? If you did, we are looking for photos from that joyous occasion for Jewish Life magazine's annual Bar and Bat Mitzvah Planning Guide, which will publish in April. We are looking for the traditional portrait shot, photos of the Kiddush luncheon and photos from any other parties celebrating the event. For consideration for publication, the photo needs to be a large file and/or high resolution, sharply focused and taken during 2013. If the photo was taken by a professional photographer you must have permission to send it to us for publication purposes. We cannot promise that all photos we receive will be published. For more information, or to send photos for consideration, email Barbara Bayer at This email address is being protected from spambots. You need JavaScript enabled to view it. or call 913-951-8425.