Legendary pianist Leon Fleisher looking forward to performing at Helzberg Hall
Published: Thursday, 23 January 2014 11:00
Written by Marcia Montgomery, Community Editor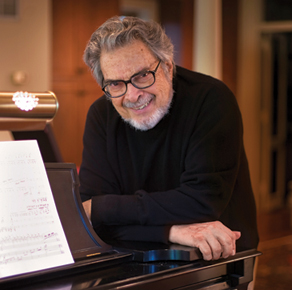 Legendary pianist Leon Fleisher has performed in Kansas City before. But he's never performed at Helzberg Hall at the relatively new Kauffman Center for the Performing Arts, a concert hall he hears is both amazing and extraordinary. That's not the only thing that excites him about coming to Kansas City and performing with the Kansas City Symphony. He finds it a great pleasure to work with its music director, Michael Stern.
"I've known him since he was a toddler. I'm enormously fond of him. I was very fond of and rather to close to his father, whom I miss very much," said Fleisher in a recent interview from his home in Baltimore.
"I think you're very lucky in Kansas City to have him as your music director."
Fleisher will perform at 8 p.m. Friday and Saturday nights, Feb. 7 and 8, and 2 p.m. Sunday afternoon, Feb. 9. He will also host a piano master class at 10:30 a.m. Saturday, Feb. 8, in Helzberg Hall. For ticket information, call 816-471-0400.
Stern said Fleisher has been one of his heroes for a long time.
"Of course, he has cast an enormous shadow over the entire course of music in our country for almost 70 years. I grew up with his legendary recordings, like so many others, but for me, the connection is more personal. I suppose his long friendship with my family when I was growing up, personal and professional, made it natural that he should be such an inspiration to me as a young student when I was developing my musical thinking. But that might have happened anyway — several generations not only of pianists but of all musicians in our country were lucky enough to have been inspired by him," Stern said.
The Symphony's music director went on to say that more than a pianist, Fleisher "is that incredibly rare artist who always combined unusual and truly original insight with a breathtaking ability to deliver the intent of the music on the page."
"When Leon touches the keyboard, something magical happens, in the sound, in the weight of the notes, in the humanity of his communication. And when he is not at the piano, whether on the podium or in the teaching studio, that inspiration is no less palpable," Stern said.
"It would be easy and accurate to see him as a link to a golden era of great musicians. But what is great about him is here he is, today, an incredibly vital musical force (with a wonderfully irreverent sense of humor) still making unforgettable music. When I officially assumed the post of music director of the Kansas City Symphony in 2005, he was our dream soloist in my inaugural concert. To have him back for the first time in Helzberg Hall, playing the Ravel Left Hand concerto as only he can, is a deeply moving moment for all of us onstage, an incredibly meaningful celebration of his 85th birthday and of his extraordinary musical spirit."
Fleisher made his debut with the New York Philharmonic in 1944, and in 1952, he became the first American to win the prestigious Queen Elisabeth of Belgium competition, establishing himself as one of the world's premier classical pianists. At the height of his success, he was suddenly struck silent at age 36 with a neurological affliction later identified as focal dystonia, rendering two fingers on his right hand immobile. Rather than end his career, Fleisher began focusing on repertoire for the left hand only, conducting and teaching. Not until some 40 years later was he able to return to playing with both hands after undergoing experimental treatments using a regimen of rolfing and "botulinum toxin" (Botox) injections.
He's been making music virtually his entire life and, he said, "it's my life. It's what gives me the greatest pleasure."
He likes every facet of his work, whether it be playing, conducting or teaching. He said simply, "they are all different aspects of the same thing."
He chuckles when he tells two stories about how he became a pianist. When he was very young, around four and a half, he remembers his mother giving him a choice — become the first Jewish president or a famous concert pianist.
"After careful consideration it struck me that being a musician was more accessible and I had a better chance of success," Fleisher said.
While his parents owned an upright piano, Fleisher said neither of them were musical.
"But they were attracted to music and it was a manifestation of a certain kind of culture, I think. It spoke to them, I think, on a deep, emotional level," he said.
Since his brother was older by five and a half years, he was given piano lessons. But Fleisher said his brother was never really interested in the instrument.
"He was rather cool about the whole thing, but it fascinated me. Those were the days when both doctors and music teachers came to the house and when he had his lessons I used to hide away in the corner and listen and watch very intently. Then when the lesson was over and he went out to the school playground to play ball, they tell me I went to the piano and did all the things that he couldn't do that the teacher had asked of him. So they figured they were giving lessons to the wrong kid, so they gave them to me," Fleisher explained.
The world-class pianist has received numerous honors and awards, including the prestigious Kennedy Center Honors in 2007. In 2006, he was the subject of the Oscar and Emmy-nominated short documentary film "Two Hands." In 2010, Doubleday published his memoir, "My Nine Lives: A Memoir of Many Careers in Music," which he co-wrote with Washington Post music critic Anne Midgette. The book has received rave reviews, including this one by famed cellist Yo-Yo Ma.
"Most musicians' skills lie in their ability to be expressive in this non-verbal medium; Leon has the additional gifts of communicating ideas and concepts tactilely, viscerally, emotionally, spiritually and verbally. Generations of musicians, including this one, have been truly blessed to hear him perform and receive his teaching. In this candid memoir, Leon describes the many lives he has led and conveys one of the most significant of lessons: transforming adversity into triumph — and into wisdom."
Fleisher's bio notes that he is "85 years young," which embarrassed the pianist when he heard the phrase. No matter how you describe his age, he said he has not yet considered retirement.
"I'm doing what I love, why should I stop it?" said Fleisher, who admitted he doesn't travel and perform as much as he used to. "But it's still probably too much."
"I have students here at the conservatory, I teach at Peabody, which fittingly is the oldest conservatory in the country. I give about 40 to 50 concerts a year. We try to group cities within the same general geographic area."
Before he comes to Kansas City, he will play in Galveston, Texas. When he leaves here he will return home for a few days before going to Rochester, N.Y., for a performance.
"God willing I'll see you in Kansas City."