Levin, Richard M.
Published: Thursday, 16 January 2014 12:00
Written by Marcia Montgomery, Community Editor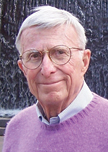 After hosting his annual Christmas Day reception and enjoying eggs benedict on New Year's Day with his children and grandchildren, Richard M. Levin passed away on Wednesday, Jan. 8, 2014, after a brief illness.
Funeral services were held at The New Reform Temple on Sunday, Jan. 12, with burial in Rose Hill Cemetery. The family suggests contributions to The New Reform Temple.
Richard was the founder and CEO of Jason/Empire Inc., an optical importing company. He served as CEO and chairman of the board for more than 30 years. A lifelong resident and Kansas City booster, he was born April 16, 1925, to Marion Berger Levin and Jake Levin. An attendee of Southwest High School, he started college in 1941 at the age of 16 at the University of Pennsylvania.
The U.S. Army called and Richard joined the infantry and served two-and-a-half years. He was wounded at the initial battle of Leyte, Philippines, in 1944, receiving the Combat Infantryman Award and the Purple Heart. He returned to college in 1945.
Richard spent two years working in Chicago after graduating from the Wharton School in 1947. In 1949, Richard and his father co-founded the predecessor to Jason/Empire. The main products the company sold were binoculars, telescopes, microscopes and weather instruments; later the company specialized in tennis products.
Richard married Carol Ann Hoffman, the daughter of Gladys and Lewis Hoffman in 1951. They had three children. They enjoyed travel, especially foreign travel, which included many trips to France and Germany. Over a 40-year period, the couple built a collection of representational American paintings of the first half of the 20th century, frequently enjoying gallery visits to New York. Business travel often took Richard to Japan, Hong Kong, Taiwan and Korea. After taking the company public in 1969, Richard arranged the sale to the Carlson Company of Minneapolis with the company ultimately ending up as part of Bushnell Optics. Richard retired in 1980 and afterwards spent many winters in Phoenix, Ariz., where he and Carol enjoyed a home. Carol passed away in 2000.
Active in civic affairs, Richard served the Nelson-Atkins Museum as a member of its board of trustees and was a member of the steering committee of the Business Council and on the investment committee. He spent many years on the board of the Kansas City Art Institute as treasurer and vice chairman. He was a member of the board of the Jewish Federation for more than 45 years, most of them as vice president. He was the first recipient of its Young Leadership Award. During that time, the organization helped aid many Ho-locaust victims and Russian refuges resettle in the United States. He was also a member of the board of the Hebrew Immigrant Aid Society of New York, which specialized in this work. He spent many years on the board of the Jewish Community Foundation, was vice president and a life member of the board. Richard was president of the board of Jewish Vocational Service as well as a long-term board member.
Pursuing his efforts as a Kansas City booster, Richard was an active member of the Kansas City Civic Council. He served on the Heart of America Boy Scout board, chairing a number of its functions. For more than 20 years, he was on the board of Menorah Medical Center, retiring from the board as its vice chairman.
Richard was a founding member of The New Reform Temple, serving it twice as its president. He was a life member of the board and chairman of its endowment committee. For many years, he was involved with the Kemper Museum, the Truman Library and Heart of American Shakespeare Festival. Richard was a 65-year member of Oakwood Country Club.
Richard leaves his three children, daughter Nancy Levin (Jeff Flora), son Michael Levin (Diane) and daughter Ann Brendle (John); seven beloved grandchildren, Molly Powers (Ryan), Zac Flora (Lori), Jamie, Andy and Joe Levin, and Jason and Amanda Brendle; and five great-grandchildren. He is also survived by his sister, Gerry Uhlfelder, of Scarsdale, N.Y., and his faithful cat, Charlie, of the condo.
Online condolences may be left at www.louismemorialchapel.com.
Arr: The Louis Memorial Chapel, 816-361-5211.