Grossman, Alice Jean
Published: Thursday, 11 January 2018 12:00
Written by KCJC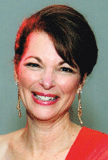 Alice Jean Grossman, born Aug. 27, 1952, in Kansas City, Missouri, died peacefully with loved ones by her side after a courageous battle with gastric cancer.
With a wink, a twinkle in her eye and an ever-present smile, Alice had a unique ability to light up a room and make everyone feel special.
She graduated from Southwest High School in 1970, from the University of Texas in 1974 and was a member of Congregation Beth Shalom.
She was preceded in death by her parents, Leon and Sarah Maslan, and father-in-law Gale Grossman.
She is survived by her husband, Harvey; her children Andrew and Juliette Grossman, Jon Grossman, Sarah and Jeremy Sherman; two grandchildren and one on the way!
Funeral services were held Monday, Jan. 8, 2018, in the White Theatre at the Jewish Community Campus; burial followed at Mount Carmel Cemetery. In lieu of flowers, the family requests memorial contributions to Children's Mercy Hospital or Charlie's House.
Online condolences may be left for the family at www.louismemorialchapel.com.
Arrangements by The Louis Memorial Chapel, 816-361-5211.