Barash, Jerry Lee
Published: Thursday, 28 December 2017 12:00
Written by KCJC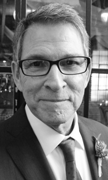 Jerry Lee Barash, 66, of Lake Sherwood, California, died Saturday, Dec. 16, 2017. Funeral services and burial were held Dec. 19, 2017, at Hillside Memorial Park in Los Angeles, California. Donations may be made to the American Heart Association or to the charity of one's choice.
Jerry was born June 7, 1951, in Kansas City, Missouri, to Harold and Rose Barash (now Rose Carr). He graduated from Center High school in 1969, attended the University of Missouri at Columbia, and graduated with a degree in marketing from the University of Arizona in 1973. In 1974, he married Susan Gale and that union of nine years produced two sons, Jordan and Brandon. In 1986, he married Karen Forman and that union produced a daughter, Alison. 
Jerry grew up in his family's wholesale food distribution business, Isis Foods, and worked there through 1981. In 1982, he went to work for Sysco Foods where he had a stellar 35-year career, having served as president of several of its major companies throughout the country. 
Jerry was preceded in death by his father Harold Barash, his mother's husband Sidney Carr, his grandparents Louis and Helen Jacobs and Louis and Rebecca Barash. 
Jerry is survived by his wife Karen; his ex-wife Susan Gale; his children Jordan Barash (Julie), Brandon Barash, Alison Berman (Spencer); his four grandchildren Braeden, Riley, Tyson and Harper Barash; his mother Rose Carr; his sisters Charlene Muller (Max) and Debby Barash; his late father's wife Veta Barash; his uncle Barney Barash; and many nieces, nephews and cousins. 
Jerry's broad smile, wit, humor, loving ways and guidance will always be remembered, and he will be deeply missed by all who had the privilege of knowing him.