Pepperdine, Miriam
Published: Thursday, 28 December 2017 12:00
Written by KCJC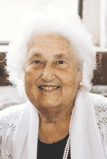 Miriam Pepperdine, 86, our beloved mother, passed away Monday, Dec. 25, 2017. Funeral services will be at 11 a.m. Thursday, Dec. 28, 2017, at The Louis Memorial Chapel, 6830 Troost Ave., Kansas City, Missouri, with burial to follow at Rose Hill Cemetery. In lieu of flowers, the family suggests contributions to OPSF Student Health Fund.
Mrs. Pepperdine was born in Kansas City, Kansas, the daughter of Abe and Rose Lieberman, and was a graduate of Wyandotte High School.
She married her high school sweetheart, Charles R. Pepperdine, on Oct. 12, 1949. They were married for 55 years before his passing in 2004, proving against all odds that their interfaith marriage wouldn't last. 
Mrs. Pepperdine was preceded in death by her parents, her husband and her two sisters, Esther Pfefer and Delores Rosenbaum.
She is survived by her three children: Marsha and Greg Stoker, Gary and Jill Pepperdine and Ron and Nicole Pepperdine. She was loved by her eight grandchildren and 13 great-grandchildren and by her many nieces and nephews who will miss their "Aunt Miriam."
Miriam and Chuck could always be found on the dance floor turning heads as they danced into everyone's hearts. 
She loved to cook in true "Jewish mother" fashion, making sure that everyone had something to eat and eat and eat.
Miriam loved planning the social events at Stratford Place where she lived for 13 years. 
She loved playing Bunco with the "Bunco Babes" and she could beat anyone at "chicken foot" dominoes. 
The family would like to extend their thanks to Silver Crest Retirement Living, Santa Marta rehab, DaVita Dialysis and the Olathe Health Hospice for the care that she received. 
All 4 feet 9 inches of her will truly be missed by her family and friends.
Online condolences may be left for the family at www.louismemorialchapel.com.
Arrangements by The Louis Memorial Chapel, 816-361-5211.