Marder, Henry Irving
Published: Thursday, 30 November 2017 12:00
Written by KCJC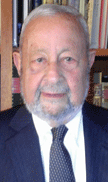 Henry Irving Marder, 86, passed away on Nov. 20, 2017. Henry was born on Nov. 23, 1930, in Kansas City, Missouri, to Fannie Mae and Irving Marder. He graduated from Southwest High School in 1948 and the University of Missouri in 1953, where he was a member of the Phi Sigma Delta fraternity. He served as a lieutenant in the United States Navy from 1953 to 1956. Upon returning from naval service, Henry joined Sosland Envelope Company where he worked until 1982.
Henry was an active member and leader of numerous civic organizations, including: The Kansas City Museum, The Nelson-Atkins Museum of Art, The Overland Park Arboretum, Whatsoever Community Center, Kansas City Community Gardens and The Heritage Trust Review Board of Johnson County. Henry was an avid fisherman, hunter and Master Gardener.
Henry was preceded in death by his parents and sister, Judith Marder Goldstein Wasserman. He is survived by his wife, Betty Jo, children Elizabeth Davidson, Seth Marder (Beth), Sarah Marder (Filippo Sabatini), Tod Marder (Katie), stepdaughters Josephine Sanditz and Renee Locker (Steve), and six grandchildren.  
There will be no funeral service. The family requests no flowers. Donations may be made to the Kansas City Community Gardens, 6917 Kensington, Kansas City, MO 64132.