Bush, Victoria Isabel
Published: Thursday, 09 November 2017 12:00
Written by KCJC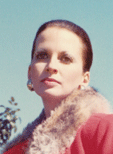 Victoria Isabel Bush, 77, of Overland Park, Kansas, passed away on Nov. 4, 2017.
Services were held Nov. 6, 2017, at Mt. Moriah, Newcomer & Freeman Funeral Home in Kansas City, Missouri; burial followed at Mt. Moriah Cemetery South.
Victoria was born on June 30, 1940, in Bronx, New York, to Rebecca and Herbert Frank. She had a passion for dancing throughout her life. She began at age 7 and continued taking lessons into her 60s. Victoria was an excellent ballroom dancer and found an immediate bond with her husband Ken on the dance floor. Their first date included dancing for more than six hours. They continued dancing throughout their lives, usually 20 to 25 hours per week.
Victoria loved everything about the arts; the symphony, opera, theatre. She was an avid oil painter. She loved the fashion industry. She had an absolutely perfect style in makeup and dress. She coached Miss America contestants. She also enjoyed knitting for the family, particularly with her daughter Deborah.
Victoria was a loving and devoted wife throughout Ken's Air Force career. She was a devoted mother and grandmother. She had a wonderful sense of humor.
She was preceded in death by her parents, Rebecca and Herbert Frank; her aunt, Adele Frank; her mother and father-in-law, Bertha and Louis Bush; and her brother-in-law, Howard Meiner.
Victoria is survived by her husband of 58½ years, Kenneth; her son, David (Erica); daughter, Deborah (Sam) Schanker; grandchildren, Jonathan and Rebecca Bush, Max and Nathan Schanker; sister, Stephanie Meiner; sister-in-law, Gail (Stanley) Bieber; and four nieces, Rachelle Knopf, Lauren Stone, Heather Miliote and Meredith Self.
In lieu of flowers, the family requests memorial contributions to the Kansas City Ballet, 500 West Pershing Road, Kansas City, MO 64108; http://ticketing.kcballet.org/dev/contribute.aspx?don=100&fieldAmt=