Blitt, Irwin Joseph
Published: Thursday, 02 November 2017 10:32
Written by KCJC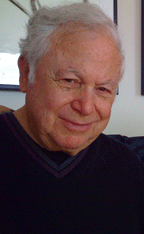 Irwin Joseph Blitt, 89, of Leawood, Kansas, died Tuesday, Oct. 24, 2017. He is survived by his wife Rita Blitt; daughter Chela (Connie) Blitt and granddaughter Dorianna Blitt, Berkeley, California; sister and brother-in-law Joan Mae and Jerry Bayer, Northbrook, Illinois; brother-in-law and sister-in-law Paul and Bunni Copaken, Mission Hills, Kansas.
In lieu of flowers or food, please consider a donation in his honor to the Jewish Family Services of Kansas City (JFS) Food Pantry or to the Jewish Community Campus. Both are located at 5801 West 115th St., Overland Park, KS, 66211.
Irwin was born June 22, 1928, to the late Anne and Michael Blitstein in Chicago, Illinois. The family soon moved to rural Kewanee, Illinois, where Irwin grew up working in the clothing store his parents established there. He attended the University of Illinois at Urbana-Champaign, where he earned a bachelor's degree in business. There he met the love of his life Rita Copaken, they were married in 1951. 
After graduation, he moved to the Kansas City area where he began working in real estate for his future father-in-law Herman Copaken. The firm eventually became Copaken, White and Blitt; he partnered with his brothers-in-law Lewis White and Paul Copaken. 
Irwin was considered one of the founders of the shopping mall industry. He was involved with developing numerous projects across the country including office and retail properties throughout Kansas City such as Oak Park Mall, Bannister Mall, and Indian Springs Shopping Center. He served as a trustee and vice president of the International Council of Shopping Centers.
Known for his negotiating skills, Irwin's goal was for both sides to feel satisfied that they had gotten a good deal. That quality served him well as he was the first person to establish a hotel in the Plaza area of Kansas City, and brought the only Nordstrom's department store to the area. In recent years Irwin mentored many people in the commercial real estate business, and is fondly remembered by them for his supportive manner and sage counsel.
Irwin was instrumental in developing the Jewish Community Campus of Greater Kansas City, which opened in 1988. The Blitts were one of the families that donated the land where the Campus now sits. The Jewish Community Campus changed the face of what had been a disparate Jewish community. Irwin facilitated the inclusion of virtually all of the major Jewish agencies in the area, and they continue to call the Campus their home. He was also a driving force in the addition of the Lewis and Shirley White Theatre to the Campus in 2005. 
Family always came first to Irwin and the happiness of his extended family was always paramount in his life. Whether it was a family matter or a business matter, and sometimes the two merged together, he always dedicated the time that was needed, as he could be counted on as a patient and caring listener.
Irwin and Rita had a lifelong loving partnership. He encouraged her career as an artist and together they supported the arts and a variety of charitable causes. In recent years they spent much of their time in the San Francisco Bay Area in order to be close to their daughter Chela and help raise their granddaughter Dorianna. Irwin's wisdom and quiet determination, kindness and generosity will live on in the lives of the many people whom he touched in his lifetime.
Memorial services were held Oct. 26; a private burial at Mount Carmel Cemetery preceded the service.
Online condolences may be left for the family at www.louismemorialchapel.com.
Arrangements by The Louis Memorial Chapel, 816-361-5211.