Uhlmann, Robert
Published: Thursday, 02 November 2017 10:16
Written by KCJC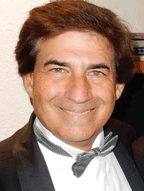 Robert Uhlmann passed away on the 23rd of October 2017 with the same grace, dignity, humor and gratitude that he displayed throughout his 68 years of life.
Born in Kansas City, Missouri, on Sept. 20, 1949, he was R. Hugh (Pat) Uhlmann and Helen Jane Weil Uhlmann's youngest of three children. He enjoyed an idyllic childhood in Kansas City where he attended Pembroke Country Day School, now Pembroke Hill, and recently enjoyed his 50th reunion. He went on to receive a degree in ancient history and musicology from Dartmouth College and an MBA from Harvard.
Robert founded Broadcast Data Systems, the first voice recognition system able to identify songs and advertisements on airplay. He was named Entrepreneur of the Year in 1993, and Radio Entrepreneur of the Year in 1995. He sold the company to Billboard Magazine and then invested in, or created, other computer, technology and media related companies while taking part in various community organizations. Most recently he served on the board of Congregation Beth Shalom in Bozeman, Montana.
Robert was a man of many talents characterized by his quick wit, kindness and zest for knowledge spanning far-reaching topics. Along with being a genealogist, he funded expeditions for lost ships and armies as well as going on archeological adventures. He had the gift of a musical ear with the ability to hear a song once and then sit at his piano and play it beautifully. He loved evenings at home that included everyone gathering at the piano singing songs ranging from Cole Porter to Sting. He enjoyed a near encyclopedic memory for history and possessed an infectious quest for knowledge. A great conversationalist, he excelled at "connecting the dots" of various historical events, listening to all points of view, discussing the arts, and weaving in far-reaching topics to suit the level of the participants. He was always the consummate, well-mannered gentleman and host.
Robert's passions were as multifaceted and as varied as his intellect, ranging from being the family's historian and chronicling the family's ancestors to enjoying a membership at the Bohemian Club, avid bird watching, traveling, pursing knowledge, skiing, golfing, and spending time with his friends, beloved "cousins-by-the-dozens," and immediate family. He made the world's best ice cream.
He and his wife of 33 years moved from Kansas City to Bozeman, Montana, in 2003, where he resided until his sudden death. He will be deeply missed and forever remembered by many people.
He is survived by three children: his daughter, Anya Uhlmann Holmes and her husband, Ryan Holmes; and his sons, Lexington Patrick Uhlmann and Samuel Weil Uhlmann; as well as two grandchildren: Ryan Thomas Holmes Jr. and Hayden Robert Holmes. He is also survived by his wife, Sally Uhlmann, with whom he shared a beautiful and fulfilling life. At the end, knowing he would soon pass, Robert spoke of his gratitude for having the privilege of such a wonderful life. He was at peace and surrounded with love.
Services were held Oct. 29 at Congregation Beth Shalom. In lieu of flowers, the family requests any contributions honoring Robert to be made to the Congregation Beth Shalom, 2010 W. Koch St., Bozeman, MT  59718; or Cancer Support Community, 102 S. 11th Ave., Bozeman, MT  59715.
Arrangements were made by Dokken-Nelson Funeral Service, www.dokkennelson.com.