Becker, Rolfe
Published: Thursday, 19 October 2017 10:04
Written by KCJC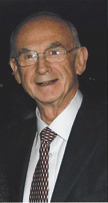 Rolfe Becker, age 87, passed away peacefully from complications related to colon cancer on Oct. 12, 2017. Rolfe is survived by his daughter Erica Morin, son-in-law Thom Morin, son Bryan Becker, daughter-in-law Yolanda Becker, grandchildren Anna and Ian Becker and thousands of patients whom he helped as a physician.
Rolfe was born Aug. 27,1930, in Seattle, Washington, and attended Garfield High School then the University of Washington for undergraduate and medical school studies. A detached retina as a child influenced his choice of specialty and in 1957 he moved to Minneapolis, Minnesota, for ophthalmology training and the unanticipated bonus of meeting Sylvia Schwarz. They married and relocated to Kansas City in 1960 and their 57 years together were filled with all things Kansas City. Rolfe truly loved interacting with his patients first at his offices on 63rd Street, later in Overland Park and then at Cokingtin Eye Center. He enjoyed mentoring young physicians as a clinical professor at KU Medical Center and as an examiner for the American Academy of Ophthalmology and he was willing to innovate, being one of the first ophthalmologists in Kansas City to use laser procedures.
As a teenager, Rolfe ventured across the country with his brother, reinforcing a strong bond between the brothers that lasted throughout their lives. Rolfe also developed a keen ear and eye for sports, listening to Seattle Rainiers' games as a child or watching his beloved Huskies play. That love of sports translated to Kansas City as well. At one time, he simultaneously held Chiefs, Royals, and Kings season tickets, and also served as the Kansas City Chiefs team ophthalmologist for a number of years. In his later years, he became an avid Jayhawk basketball fan. He was also a tennis player for over 40 years and loved watching every international tournament.
Rolfe's wry smile and laugh would appear when reading anything by James Thurber. He also told great adventure stories of carrying pottery and art across the U.S. and overseas trips as he and Sylvia grew their diverse collection. 
Many thanks to the staff at the Birches and AMITA Health Adventist St. Thomas Hospice. Donations in Rolfe's honor can be made to the American Academy of Ophthalmology.
Funeral arrangements are private per the family's wishes. A celebration of Rolfe's life will be held in the future.
Arrangements by Sullivan Funeral Home Hinsdale, Illinois, 630-323-0275 or www.sullivanfuneralhomehinsdale.com.