Horowitz, Esther Polsky
Published: Thursday, 19 October 2017 10:04
Written by KCJC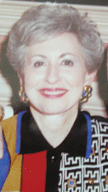 Esther Polsky Horowitz, 91, of Overland Park, Kansas, passed from this life on Oct. 17, 2017, in her home at Village Shalom of natural causes. Funeral services were planned for 2 p.m. Wednesday, Oct. 18, at the Kehilath Israel Blue Ridge Cemetery, 1901 Blue Ridge Blvd., Independence, MO.
The family was also scheduled to sit shiva at 6:30 p.m., Oct. 18 at Village Shalom, 5500 W. 123rd St., Overland Park, KS, in Rachel's Cafe.
Esther was born on Feb. 26, 1926, in Kansas City to Isadore and Rachel Polsky. She graduated from Paseo High School in 1944 and married Morris Horowitz of Kansas City following the war in 1945. Esther was preceded in death by Morris, her husband of 67 years, and her brother Norman and sister-in-law Elaine Polsky, brother-in-law Ernie Horowitz, sisters-in-law Anna Rose Axelrod and Charlene Gelb.  
Sis, as most people knew her, was a member of the Kehilath Israel Synagogue and Sisterhood for many years. She served as secretary-treasurer for the Smith St. John Restaurant Equipment Supply Company after World War II, and served on the board of directors of the family-run business for many years.   
Family was most important in Esther's life as a devoted mother, grandmother and great-grandmother. In her later years, she became heavily involved with her philanthropic work through The Horowitz Family Foundation, particularly with Operation Breakthrough of Kansas City.  
Esther is survived by her two sons, Mark Horowitz and his wife Abby of Weston, Massachusetts, and Dennis Horowitz and his wife Sue of Santa Barbara, California; grandchildren, Rachel and her husband Yaakov Kimelfeld, Eli Horowitz, Jessica Horowitz and Alex Paxton; and great-granddaughter, Maya Leah Kimelfeld. Also surviving are her sister-in-law, Tobie Horowitz; brother-in-law, Larry Gelb; her beloved nieces and nephews and her caregivers: Tony Ellis and Vanetta Warren. Memorial contributions can be made to Operation Breakthrough or Kehilath Israel Synagogue.
Online condolences may be left for the family at www.louismemorialchapel.com.
Arrangements by The Louis Memorial Chapel, 816-361-5211.