Fisher, Dr. Harvey F.
Published: Thursday, 17 August 2017 13:54
Written by KCJC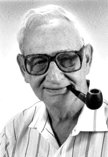 Dr. Harvey F. Fisher, Ph.D., 94, of Overland Park, Kansas, passed away Sunday, Aug. 13, 2017, at his home. Graveside services were set to take place Wednesday, Aug. 16, at Rose Hill Cemetery. In lieu of flowers, the family suggests contributions to the V.A. Medical Center.
Dr. Fisher was born June 22, 1923, in Cleveland, Ohio, and received his Ph.D. from the University of Chicago in 1952.
He was the director of the Laboratory of Molecular Bio-Chemistry at the V.A. Medical Center. He retired in June 2017 as professor emeritus in the Department of Bio-Chemistry and Molecular Biology at the University of Kansas Medical Center. 
Dr. Fisher loved sailing, and played hockey into his 70s, which he passed on to his son, Steve.
He was a longtime member of The Temple, Congregation B'nai Jehudah.
Dr. Fisher served in the U.S. Army during World War II.
He was preceded in death by his parents and his wife, Camille Fisher, in December 2016.
Dr. Fisher is survived by his son and daughter-in-law: Steve and Therese Fisher, Overland Park, and his grandchildren: Charissa Meyers and husband, Jeff, Courtney Fisher, and Tiffany Seymour and husband, Chad.
Online condolences may be left for the family at www.louismemorialchapel.com.
Arrangements by The Louis Memorial Chapel, 816-361-5211.