Yeddis Alexander (Al)
Published: Thursday, 17 August 2017 13:50
Written by KCJC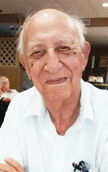 Alexander (Al) Yeddis, 97, passed away on June 8, 2017, in Overland Park, Kansas. He was born in Kansas City, Missouri, to Jacob and Sonya Yeddis.
Al spent four years in the Army in World War II as a staff sergeant in the finance department. In 1947, he met and married Adele Gittleman. He started a sporting goods business, Daval Mfg. Company, in the same year and produced sports uniforms for gym, track, basketball, baseball and football.
Al loved to play golf with his buddies and enjoyed watching sports of all kinds as well as classical music, opera and fine art. He was an avid animal lover and reader. 
Al leaves his wife of almost 70 years, Adele, and daughters Shelby Yeddis and Beverly Bodine and granddaughter Jessica Bodine along with great-grandchildren Jala, Hannah and Xzavier Yagadece. He also leaves several very dear nieces and nephews. Graveside services were held at Rosehill Cemetary on Tuesday, June 13, 2017. 
Arrangements by Louis Memorial Chapel.