Castrianni, Dolores S.
Published: Thursday, 27 July 2017 10:00
Written by KCJC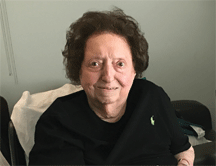 Dolores S. Castrianni, 88, of Overland Park, Kansas, passed away Saturday, July 22, 2017, at Menorah Medical Center. Graveside services and burial were held Tuesday, July 25, at Sheffield Cemetery. In lieu of flowers, the family suggests contributions to a charity of one's choice.
She was born April 23, 1929, in Kansas City, Missouri, the daughter of Louis and Princess (Goldstein) Friedman.
Dolores was a realtor for 30 years and was a member of and a contributor to the Jewish Federation.
She was preceded in death by her parents; her husband, Salvatore Castrianni, and a grandson, Stephen Castrianni.
Dolores is survived by her son: Ronald Castrianni, two grandchildren, two great-grandchildren and many nieces, nephews and cousins.
Online condolences may be left for the family at www.louismemorialchapel.com.
Arrangements by The Louis Memorial Chapel, 816-361-5211.