Kopin, Donald Jay
Published: Thursday, 27 July 2017 10:00
Written by KCJC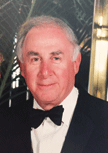 Donald Kopin, 88, previously of Overland Park, Kansas, died peacefully in Dallas, Texas, on Thursday, July 20, 2017, where he had resided over the last year. Donald was born on Aug. 30, 1928, in Kansas City, Missouri.
Donald always enjoyed being social and had many friends. He was even in a fraternity (The Dux) while in high school. He met the love of his life, Betty Berkson, in 1950. Soon after they met, he was drafted to serve in the U.S. Army during the Korean War. As they wanted to be married before he left for Korea, Betty and Donald became engaged and married in March of 1951. Just 10 days after the wedding, he left for a year-long tour in Korea. 
Donald was an amazing and loving father, always showing his devotion and never afraid to say how much he loved his wife, children, parents and sisters out loud. He was an incredible businessman owning three grocery stores and supermarkets during his life. Donald will be remembered by his amazing sense of humor and his contagious gusto for life. 
Donald is survived by his beloved wife of 66 years, Betty; daughters and sons-in law: Pam and Leon Dagerman and Nancy and Steve Fine; grandchildren: Megan (Jeremy) Roberts, Ryan Dagerman, Samantha Fine and Josh Fine. He is also survived by his sisters: Alice (Clarence) Winer and Barbara Goldstein. 
The service was held Sunday, July 23, at the Chapel at Sparkman Hillcrest in Dallas; burial followed at Sparkman Hillcrest. In lieu of flowers, contributions can be made to the American Cancer Society or the organization of choice. 
The family would like to thank the amazing community of Brookdale Leawood in Kansas for the great care he received while living there for four and a half years. Also, many thanks to the great caregivers at the Tradition at Prestonwood in Dallas and the wonderful caregivers from the Accapella Nursing agency that allowed Donald to continue to live with his beautiful Betty in the last year of his life.