Haith, Alec Garin
Published: Thursday, 29 June 2017 10:00
Written by KCJC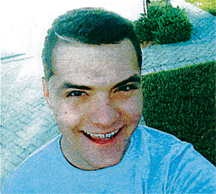 Alec Garin Haith, 21 of Leawood, Kansas, passed away June 18, 2017, in Leawood.
Alec was born April 2, 1996, in Kansas City, Missouri, to Mitchell Haith and Cindy Vogel Haith. He graduated from Louisburg High School, class of 2014. Following high school, Alec attended Johnson County Community College and was then employed by his uncle at DSG Equipment & Supplies in Kansas City, Missouri. He also worked at O'Reilly Auto Parts in Kansas City. Alec took his work very serious and had a great gift for learning quickly. He was a dedicated mechanic, working on small engines at work and his own vehicles at home. 
Alec enjoyed a lot of things growing up, especially paintball, football and Xbox games. As he grew up, his life's passion and focus turned to cars and motorcycles. 
Alec was a friend to many, he truly cared for people and what was happening in their lives. There will be many who will miss his random, yet thoughtful texts to check on them. Alec will forever be remembered as a good man with a kind soul and always smiling.
Alec was preceded in death by his paternal grandfather, Samuel Haith, and maternal grandparents Harold and Elsie Vogel. He is survived by his mother Cindy Vogel, father Mitchell Haith and stepmother Patty Haith, brother Kyle Haith, paternal grandmother Renee Haith and maternal grandparents Ray Vogel, Tutti Howard and Larry Stroup and wife Alice. Alec is also survived by his uncle Stephen Haith and wife Delores and cousin Grace Haith along with his much-loved cat Carmen.