Levitan, Howard
Published: Thursday, 29 June 2017 10:00
Written by KCJC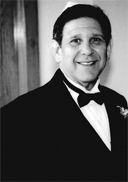 Howard Levitan, son, husband, father, grandfather, uncle, cousin, 74, passed away peacefully in his sleep on Thursday, June 22, with his family at his side. He was born March 11, 1943, in New Jersey.
Mr. Levitan graduated from high school in Linden, New Jersey, and was a graduate of the University of Oklahoma and UMKC School of Law. He was licensed to practice in Missouri and Kansas. He was a big Oklahoma Sooners and UMKC 'Roos fan and very active as an alumnus of these schools.
Mr. Levitan was past president of the Barn Players, past president of Kehilath Israel Synagogue and mentor to anyone asking for help or advice.
Mr. Levitan felt very fortunate to not have to be in the service and donated to many veteran causes to show his support. Some of his many causes include B'nai B'rith, Kehilath Israel Synagogue, Jewish Community Center, Yiddish Book Center in Boston, National Parks Service, Patriots Circle member in support of America's Veterans & Families, Veterans of Foreign Wars, "Founding Partner" for Medal of Honor Museum Foundation, Five-Star Supporter 2017 of the Eisenhower Foundation to preserve his legacy, the National World War II Museum to build, maintain and preserve the history, charter member of the Eisenhower Legacy Society, Admiral Nimitz Foundation in support of the National Museum of the Pacific War, National Wildlife Federation, Overland Park Leadership, Overland Park Chamber and Leawood Chamber and, of course, AEPi of OU.
He was awarded the Distinguished Supporter certificate by the World War II Veterans Committee and recognized for support of Team USA on Road to Rio.
Mr. Levitan is survived by his wife of almost 52 years, Sharon (Bitner) Levitan; son Norman Levitan; daughter, Andrea Levitan; the two grandchildren who kept him alive these past 16 years, Riley Gavin Ellis and Elia Remi Ellis; his 96-year-old mother, Sarah (Luzer) Levitan; brothers and sisters-in-law, Edward and Deb Levitan, Cooper City, Florida, and Joel and Joan Levitan, Toledo, Ohio; three nieces; five nephews; four great-nieces; three great-nephews; and many devoted first cousins in New Jersey and New York.
A favorite quote of Mr. Levitan's was "You are never too old to set another goal or to dream a new dream," by C.S. Lewis.
In lieu of flowers, donations may be made payable to the University of Kansas Health System and mailed to Fund Development, 2330 Shawnee Mission Parkway, Suite 305, Westwood, KS 66205 or visit http://giving.kansashealthsystem.com/tribute to donate online, or to Hyman Brand Hebrew Academy Access Program, 5801 W. 115th St., Overland Park, KS 66211.