Pollman, Vicki Stine
Published: Thursday, 15 June 2017 10:00
Written by KCJC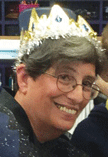 Vicki Stine Pollman, age 65, Overland Park, Kansas, passed away peacefully on Tuesday, June 6, 2017, in her home with loved ones by her side, following an extended illness.
Vicki, daughter of Sol and Leah Stine, was born on March 24, 1952, in St. Joseph, Missouri. She graduated from Central High School (1970) and attended University of Missouri, Columbia. She married Arnold Pollman on Sept. 10, 1978, and together they built a home with their three children in the Kansas City area.
Vicki wore many hats in her professional life, including roles at Menorah Medical Center, Theatre for Young America and CVC Veterinary Conferences. She considered her primary role to be that of homemaker in raising her children and supporting her community. She volunteered thousands of hours of her time and talents to Congregation Ohev Sholom's sisterhood and to supporting the various activities of her children. 
She was preceded in death by her father, Sol Stine; mother, Leah Stine; sister, Linda Stine; and brother-in-law George Chafey.
Her life is celebrated by her husband, Arnold; children Anna Francesca Garcia, Carla (Aaron) Clark, and Vaughn (Danielle Smith) Pollman; grandchildren Delilah Rose Garcia, Aiden, Tyler, and Jacob Clark; brothers Alan (Carol) Stine and Marc (Nan) Stine; countless cousins, nephews, nieces, and friends.
She will be remembered by all for her humor, giving spirit, welcoming arms, and passion for living life to the fullest. 
Funeral services were held Sunday, June 11, 2017, at Mt. Moriah, Newcomer and Freeman Funeral Home, and were followed by burial in the Congregation Beth Torah Section in Mt. Moriah Cemetery. Per Vicki's wishes, those in attendance were encouraged to dress in bright colors, in celebration of her life.
In lieu of flowers, the family requests that time or services be donated to a youth arts program of your choice, or donations be made to Theatre for Young America.
Funeral Arrangements by Mt. Moriah, Newcomer and Freeman Funeral Home, 10507 Holmes Road, Kansas City, MO 64131.