Lewin, Virginia Landy
Published: Thursday, 08 June 2017 13:06
Written by KCJC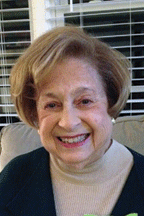 Virginia (Ginger) Landy Lewin, 83, passed away peacefully June 3, 2017. Virginia was born Jan. 8, 1934, in Kansas City, Missouri, to Theodore and Bess Landy. She is preceded in death by her parents; son Michael Lewin and husband James S. Lewin.
She is also survived by her children, Kathy (Nick) Hadley, John (Courtney) Lewin; her grandchildren, Jennifer (Joe) Scott, Michelle Hadley; and great-grandchild, Sydney Scott. Virginia is also survived by her sister, Deea (Malin) Greenberg and many nieces and nephews.  
Services were held Tuesday, June 6, 2017, at The Louis Memorial Chapel; burial followed at Rose Hill Cemetery.
In lieu of flowers, the family suggest donations be made in her name to a charity of your choice.
Online condolences may be left for the family at www.louismemorialchapel.com.
Arrangements by The Louis Memorial Chapel, 816-361-5211.