Meth, Abraham
Published: Thursday, 08 June 2017 13:04
Written by KCJC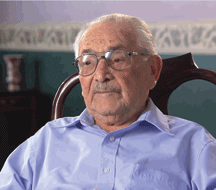 Abraham Meth died Saturday, May 27, 2017, in Sun City, Arizona. Born June 5, 1912, he died just a few days short of his 105th birthday. Services were held Tuesday, May 30, at Temple Beth Shalom in Sun City; burial followed in Sunland Memorial Park Cemetery.
Abe graduated from the Jewish Theological Seminary in Budapest in 1933 and married his wife Lillie in 1939. He came to the United States in 1948 and lived for 30 years in Kansas City, assisting in rituals, teaching religious school, tutoring Bar and Bat Mitzvah students, and supervising congregation management at Congregation Beth Shalom. He and Lillie retired to Arizona in 1978. Abe became the Torah reader at Beth El Congregation in Phoenix for 32 years and joined Temple Beth Shalom in Sun City.
Those who eulogized him at his funeral, including Rabbis Shelly Moss and Arthur Lavinsky, spoke of his life work, which included teaching Hebrew and Torah to many generations of students, violinist, opera composer, singer, calligrapher and jewelry maker. When the Nazis overturned their Hungarian allies toward the end of World War II, he collaborated with Raoul Wallenberg and forged Swedish passports, thus saving hundreds from the Holocaust.
Abe will be remembered for his humor and zest for life, even as he lived into his hundreds. He will be missed by all his acquaintances and friends who loved him and learned so much from him.
He is survived by his children Joseph Meth and Agi Oblas, and three grandsons, Benjamin, Daniel and Nathaniel.
Contributions in Abe's memory may be sent to Yad Vashem — The World Holocaust Remember Center through its website, https://secure.yadvashem.org/donation/index.asp.