Dreyer II, Eugene Charles
Published: Thursday, 04 May 2017 10:58
Written by KCJC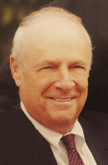 Eugene Charles Dreyer II, 81, of Prairie Village, Kansas, passed away April 23, 2017, at his home.
Born Dec. 16, 1935, in St. Louis, Missouri, to Stanley and Louise Dreyer, Gene moved to Kansas City in 1941. Over the course of his youth and education — starting at Bryant Elementary School, summers at Camp Nebagamon and onto Pembroke Country Day and the University of Illinois — Gene made lifelong friendships that he would grow to treasure. 
At 16 years of age, Gene contracted polio. Finding inspiration from William Ernest Henley's poem "Invictus," Gene survived the virus and spent a year recuperating at various hospitals before moving back to Kansas City and graduating from Pembroke Country Day in 1954 and the University of Illinois in 1958. 
On Valentine's Day in 1959, Gene met his beloved wife Thelma Snyder and they were married on Nov. 8, 1959. Gene enjoyed a loving 57-year marriage and a lifelong career as a stockbroker with H.O. Peet, George K. Baum and ultimately opened the Kansas City office of Robert W. Baird where he spent the last 19 years working. 
Gene's passions were his family, traveling the world and fishing. He loved a good joke, a strong martini, well-crafted obituaries, and poolside Sunday cookouts with his grandchildren who will cherish memories of their "Dindee." 
Survivors include his wife, Thelma Dreyer; daughter, Nancy (Mark) Sachse; son, Tom (Amy) Dreyer; sister, Jerry (Vern) Davidson; sister-in-law, Eleanor Hauft; and grandchildren, Kate Sachse, Amy Sachse, Annie Dreyer, Carly Dreyer, Tommy Dreyer, and Stella Dreyer; numerous nieces and nephews; and his beloved dog, Lucy. 
The family would like to thank Maria Jennett, Rondy Wright and Dr. Harish Ponnuru for their wonderful care and kindness.
A memorial service will be held at 3 p.m. Sunday, May 21, at The New Reform Temple located at 7100 Main Street, Kansas City, Missouri. 
Contributions can be made to Children's Mercy Hospital or The New Reform Temple. 
Online condolences may be left for the family at www.louismemorialchapel.com.
Arrangements by The Louis Memorial Chapel, 816-361-5211.