Stein, Leo
Published: Thursday, 23 March 2017 10:00
Written by KCJC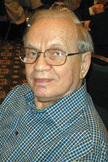 Leo Stein, of Overland Park, Kansas, passed away in the early morning hours on March 20, 2017. Graveside services were to be held Wednesday, March 22, 2017, at Kehilath Israel Blue Ridge Cemetery. In lieu of flowers, the family requests contributions to Congregation Beth Shalom, the Midwest Center for Holocaust Education or a charity of one's choice.
He was born in Lodz, Poland, and was a Holocaust Survivor who came to the United States in 1952.
When he arrived in Kansas City, he was assisted by the Jewish Agency in obtaining employment. Before retiring, he was a warehouse manager for a wholesale housewares firm for 25 years.
Leo met his wife in Kansas City and was a loving husband and a good father. His main interests were watching soccer matches and listening to classical music and opera which he enjoyed immensely.
He was a member of Congregation Beth Shalom.
Surviving him are his wife of 59 years, Johanna Stein, and his daughter, Pamela J. Stein, both of the home, along with several nieces, one nephew and cousins.
Online condolences may be left for the family at www.louismemorialchapel.com.
Arrangements by The Louis Memorial Chapel, 816-361-5211.