Tankel, Marshall
Published: Thursday, 23 March 2017 10:00
Written by KCJC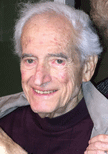 Marshall Tankel, 88, of Leawood, Kansas, passed away Sunday, March 19, 2017, at Village Shalom. Graveside services were held March 21, 2017, at Rose Hill Cemetery. In lieu of flowers, the family suggests contributions to Children's Mercy Hospital.
Marshall was born Dec. 16, 1928, in Chicago, Illinois, the son of Sam and Fannie (Romer) Tankel.
He was preceded in death by his parents and is survived by his wife, Joanne Tankel; sons and daughters-in-law: Ronald Tankel (Teri), Overland Park, Kansas, and Michael Tankel (Kim), Olathe, Kansas; sister and brother-in-law: Beverly Newton (Robert), Olathe; grandchildren: Jordan, Kate, Isaac (Kaley), Micah and Sam and his niece: Elise Goldman (Joe Soto).
Online condolences may be left for the family at www.louismemorialchapel.com.
Arrangements by The Louis Memorial Chapel, 816-361-5211.